Nutrition 101
Top 10 Healthy Aphrodisiac Foods
Find out which foods you should make a part of a healthy dinner date.
The idea that foods have legitimate aphrodisiac properties when consumed is very difficult to prove scientifically. For example, red wine is often touted as an aphrodisiac due to its resveratrol content. While this compound is known to boost blood circulation, one would need to drink "8 to 10 bottles per day" to experience these benefits, says Eric Rimm, Director of the Program in Cardiovascular Epidemiology at the Harvard School of Public Health.
Similarly, it's been reported that the chemical phenylethylamine in cocoa can improve your mood. However, to experience a noticeable boost , a person would need to consume 20% of their own body weight in chocolate!
While it may be difficult to achieve the biochemical effects of aphrodisiac foods, let's not forget about other ways our state of mind is altered by foods: aroma, taste, texture, luxuriousness, shape, etc.
Since ancient times, certain foods have been revered for their aphrodisiac properties for various reasons. We have come up with our top ten list of the healthiest. These foods are full of vitamins, minerals, antioxidants and various other beneficial nutrients, so be sure make them a delicious part of healthy dinner date:
Oysters
- a good source of vitamin D
Figs
- find out why you should keep figs in your pantry!
Asparagus
- check out this great recipe for chilled asparagus soup
Pomegranate
- a source of polyphenols
Avocados
- high in healthy, unsaturated fats
Chocolate
- find out why dark chocolate is better for you
Truffles (not the chocolate kind!)
- try this delicious and nutritious recipe for farro risotto and black truffle
Spices (chili, ginger, cinnamon and turmeric)
- incorporate more ginger and turmeric into your diet with this low-calorie recipe for Punjabi cabbage
Strawberries
- find out how fruits and vegetables can lower your risk of heart disease
Cherries
- check out this delicious recipe for a cherry, chocolate and almond smoothie
What are some of your favorite aphrodisiac foods? Let us know in the comments below!
---
April 20, 2018 by Allison Aaron, Sr. Culinary Nutritionist
Do you really know what's in your protein powder? Allison discusses a recent report that examined contamination in this dietary supplement and discusses whether protein powders are a necessary addition to our diets.
---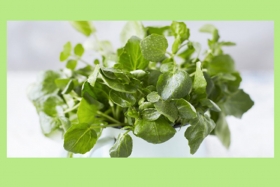 March 19, 2018 by Kat Villarino, Dietetic Intern
Dietetic Intern Kat Villarino covers why watercress is such a nutrient powerhouse and shares how you can incorporate more of it into your diet. Check out her infographic!
---