Nutrition 101
"Good Fats" and "Bad Fats": The Difference Between Saturated and Unsaturated
Culinary Nutritionist Natalia Hancock explains the difference between saturated fats and unsaturated fats, their advice on cholesterol levels and how much we should be consuming.
"Bad fats"
Saturated fats and trans-fats are known as the "bad fats". An excess of either can increase blood cholesterol levels, which in turn increases the risk of heart disease as excess cholesterol gets deposited on the walls of coronary arteries. These fats have a bigger impact upon the development of heart disease than dietary cholesterol; about 75% of an individual's blood cholesterol is made in the liver from fats, while only 25% is absorbed from food.

Saturated fats can be found in cream, butter, lard, red meat, whole and reduced-fat cow's milk, and coconut and palm oils. Trans-fatty acids can be found in shortening, margarine, hydrogenated and partially hydrogenated oils. Typically, trans-fats are added to a variety of processed foods to increase their shelf-life. Trans-fatty acids have a larger detrimental effect on our bodies than saturated fats since their consumption can directly raise LDL (bad) cholesterol while lowering HDL (good) cholesterol levels.
"Good fats"
In contrast, unsaturated fats are considered "good fats". They can be found in poultry, fatty fish, avocados, olives, nuts and seeds and their oils. These fats do not negatively affect the heart or our cholesterol levels when consumed in appropriate amounts.
According to the Dietary Guidelines our fat intake should be between 20-35% of our daily calorie intake, however the majority should come from unsaturated fats; we should aim to have no more than 7-10% of our calories coming from saturated fat. Furthermore, we should avoid the consumption of industrial trans-fats altogether.
Learn more about nutrition by reading our Nutrition 101 blog!
---
April 20, 2018 by Allison Aaron, Sr. Culinary Nutritionist
Do you really know what's in your protein powder? Allison discusses a recent report that examined contamination in this dietary supplement and discusses whether protein powders are a necessary addition to our diets.
---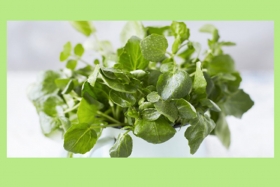 March 19, 2018 by Kat Villarino, Dietetic Intern
Dietetic Intern Kat Villarino covers why watercress is such a nutrient powerhouse and shares how you can incorporate more of it into your diet. Check out her infographic!
---