Recipes
Chilled Asparagus Mint Soup with Crab & Avocado Salad Recipe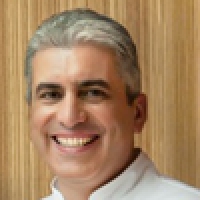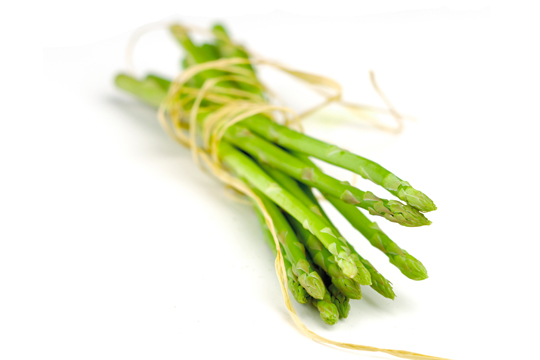 This ultra-low calorie soup is tasty, easy to make and contains less than 1g of saturated fats per serving.
Makes 6 servings
Soup

1 lb. bunch asparagus
½ cup low-fat buttermilk
¼ cup scallions, green tops only
2 tsp. kosher salt
3 cups sparkling mineral water
30 mint leaves
Directions

Remove the woody ends from the asparagus and cut into 2" segments.
Blanch for 3 minutes in boiling, salted water. Remove, drain and chill in an ice bath.
Blanch the scallion greens in the same boiling water for 30 seconds. Remove, drain and chill in an ice bath.
Place the asparagus, scallions, buttermilk, salt, mint leaves and sparkling water in a blender and blend until you achieve a smooth consistency (approximately 2 minutes). If a thinner consistency is desired, strain through a fine mesh strainer.
Refrigerate for 1 hour or overnight.
Salad
2 ½ oz. lump crabmeat
½ avocado, small dice
¼ Granny Smith apple, small dice
1 red radish, brunoise
1 shallot, brunoise
1 tbsp. finely chopped chives
4 mint leaves, chiffonade
1 tsp. lime juice
1 tsp. olive oil
1 pinch sea salt
Directions

Combine all of the ingredients for the crab and avocado salad, mixing carefully as to not mash up the avocado dice.
Check for seasoning.
Place a 1-2 tbsp. of crab salad in the center of the serving bowl and pour soup over tableside in front of your guest.
Nutritional information per serving:

Calories: 60kcal
Fat: 2.5g
Saturated Fat: .5g
Protein: 5g
Carbs: 6g
Fiber: 2g
Sodium: 490mg
Potassium: 290mg
---
April 20, 2018 by Allison Aaron, Sr. Culinary Nutritionist
Do you really know what's in your protein powder? Allison discusses a recent report that examined contamination in this dietary supplement and discusses whether protein powders are a necessary addition to our diets.
---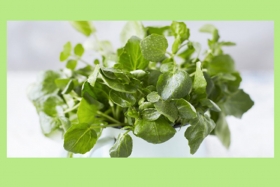 March 19, 2018 by Kat Villarino, Dietetic Intern
Dietetic Intern Kat Villarino covers why watercress is such a nutrient powerhouse and shares how you can incorporate more of it into your diet. Check out her infographic!
---