Recipes
Farro Risotto with Celery Root & Black Truffle Recipe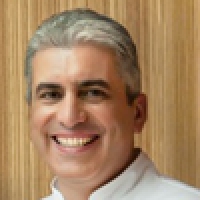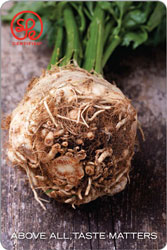 This healthy farro risotto is served with a celery root puree and garnished with crimini mushrooms, shallots and radish to round off a flavorful but low-calorie dish.
Makes about 6 servings
Celery Root Purée
1 ¾ cup celery root, cut into 2" cubes
1 tbsp. truffle oil
1-2 tbsp. celery root cooking liquid
1 ¼ tsp. sea salt
Directions

In a pot, cover celery root with water and simmer until tender (about 15 minutes).
Add celery root to blender with salt and cooking liquid. While blender is running, add oil.
Farro Risotto
1½ cups dry farro, soaked in water overnight and drained
1 tbsp. extra virgin olive oil
¾ cup chopped onion
¾ cup dry white wine
3 cup chicken stock (no or low sodium)
½ tsp. sea salt
⅔ cup grated Parmigiano-Reggiano
4 cups chopped Swiss chard

Directions
Heat the olive oil in a pot. Add the onions and sauté for 1-2 minutes.
Add the soaked farro, stir to coat with oil, and cook for another 1-2 minutes.
Add the dry white wine and cook until it is absorbed into the farro.
Add the salt and as the liquid is absorbed, add stock one ladle at a time, stirring constantly.
Continue to ladle and stir for approximately 18-20 minutes.
Add the still hot celery root purée and stir.
Add the cheese and Swiss chard. Cook until Swiss chard is wilted.
Garnish
1 ½ cup sliced crimini mushrooms
¾ tbsp. sliced shallots
½ tbsp. truffle oil
½ tbsp. sherry vinegar
⅓ cup thinly sliced radish 1/4 cup thinly sliced celery
1¾ cup sliced maitake mushrooms, sautéed
1-2 cooked chicken breasts
¼ cup chives
Directions

Sauté the crimini mushrooms and shallots in truffle oil until moisture from mushrooms has cooked off.
Deglaze the pan with the vinegar and add the celery and radishes while the pan is still warm.
Plate farro risotto and garnish with criminis, shallots, celery and radishes.
Thinly slice the chicken and add 3-4 slices of chicken and 2-3 slices of maitake mushrooms. Sprinkle chives over the top and serve.
Nutritional information per serving:

Calories: 389kcal
Fat: 12g
Saturated Fat: 3g
Protein: 29g
Carbs: 39g
Fiber: 5g
Sodium: 649mg
Potassium: 488mg
---
April 20, 2018 by Allison Aaron, Sr. Culinary Nutritionist
Do you really know what's in your protein powder? Allison discusses a recent report that examined contamination in this dietary supplement and discusses whether protein powders are a necessary addition to our diets.
---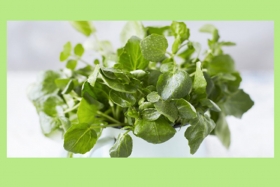 March 19, 2018 by Kat Villarino, Dietetic Intern
Dietetic Intern Kat Villarino covers why watercress is such a nutrient powerhouse and shares how you can incorporate more of it into your diet. Check out her infographic!
---