Recipes
Chilled Almond Soup Recipe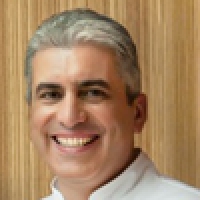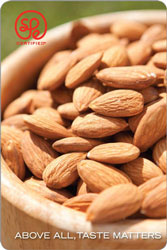 A delicious and refreshing soup packed with nutrients and low in saturated fat.
Makes 8 1-cup servings

8 oz. blanched almonds
2 cloves garlic, peeled
1 ½ cups fresh, crusty white bread, crumbed
2 ½ - 3 cups cucumber juice
(juice from approximately 4 cucumbers, peeled)
½ cup sparkling mineral water
1 medium cucumber, peeled
2 tbsp. Sherry vinegar
2 tsp. kosher salt
6 oz. 0% Greek yogurt
3 tbsp. olive oil
¼ cup Muscatel (or similar) grapes, thinly sliced
1 small cucumber, peeled, seeded and diced for garnish
Tarragon leaves to garnish
1 tsp. blood orange oil
Directions

For a smoother soup, soak almonds overnight in water to cover. (Note: Count the soaking water as part of the total liquid volume.)
Finely grind the almonds and the garlic in a blender.
Add the breadcrumbs, cucumber, cucumber juice, water, vinegar and salt and blend for 2 minutes. Add the yogurt and blend an additional minute.
Slowly add the olive oil, while continuing to blend, until you achieve a creamy consistency.
Strain through a fine mesh strainer.
Refrigerate for at least 1 hour.
Serve garnished with grape slices, cucumber, tarragon leaves and drizzle with blood orange oil.
Nutritional information per serving:

Calories: 270kcal
Fat: 21g
Saturated Fat: 2g
Protein: 9g
Carbs: 14g
Fiber: 4g
Sodium: 340mg
Potassium: 410mg
---
April 20, 2018 by Allison Aaron, Sr. Culinary Nutritionist
Do you really know what's in your protein powder? Allison discusses a recent report that examined contamination in this dietary supplement and discusses whether protein powders are a necessary addition to our diets.
---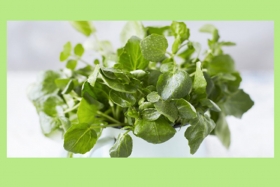 March 19, 2018 by Kat Villarino, Dietetic Intern
Dietetic Intern Kat Villarino covers why watercress is such a nutrient powerhouse and shares how you can incorporate more of it into your diet. Check out her infographic!
---