Recipes
Recipe: Lemony Brussels Sprouts with Toasted Pecans and Breadcrumbs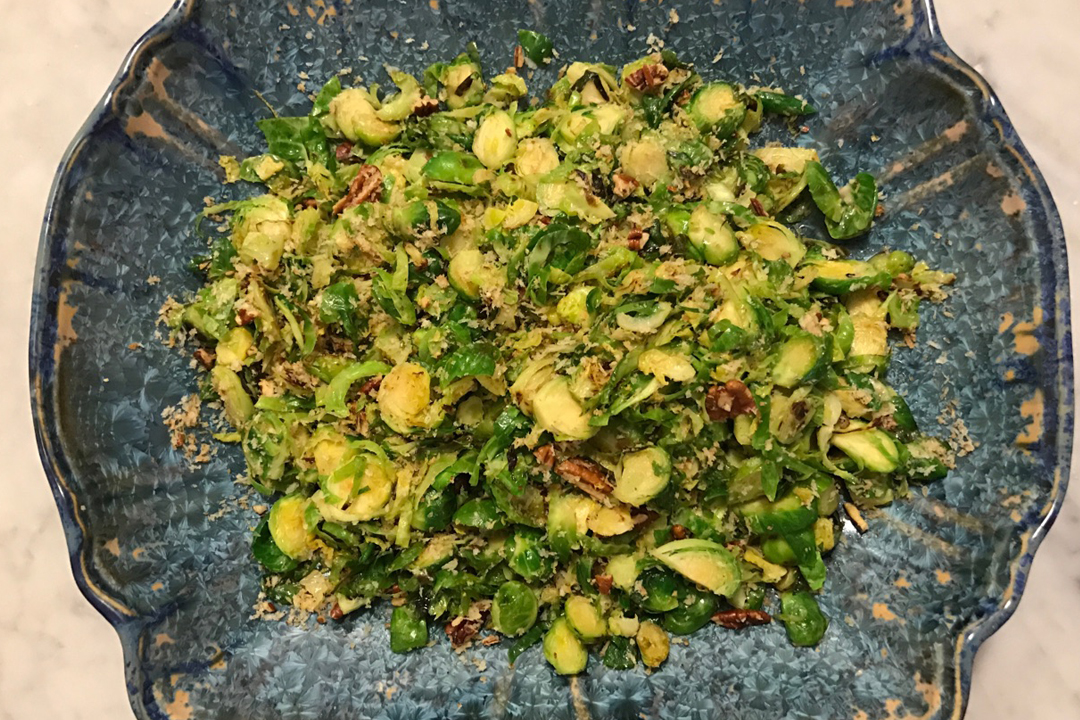 Lemony Brussels Sprouts with Toasted Pecans and Breadcrumbs
Makes 6 servings
Sautéed Brussels sprouts:
2 tbsp olive oil
2 pints Brussels sprouts, thinly sliced by hand or sliced in food processor
¼ tsp kosher salt
2 tbsp lemon juice
1 heaping cup breadcrumb mixture (full recipe from below)
Add oil to large saute pan and heat on high. When oil starts to shimmer (but before it smokes), add Brussels sprouts and season with salt. Saute, stirring occasionally, until Brussels sprouts are cooked through and begin to caramelize. Transfer to serving dish and toss with lemon juice and breadcrumb mixture. Note: toss with breadcrumbs immediately before serving so that they do not become soggy.
Breadcrumb Mixture:
2 ½ tbsp olive oil
2/3 cup panko
¼ tsp kosher salt
½ cup chopped toasted pecans
Zest from ½ lemon (approximately 2 tsp)
Add oil to small saute pan and turn heat to medium. Add breadcrumbs and toast, stirring frequently to prevent from burning, until golden brown (should take about 5-10 minutes). Remove from heat and add salt, toasted pecans and lemon zest. Mix gently to combine and set aside.

Nutrition Information Per Serving:
Calories: 200kcal
Fat: 17g
Saturated Fat: 2g
Carbohydrates: 12g
Fiber: 3g
Sugar: 2g
Protein: 4g
Sodium: 130mg
Potassium: 270mg
---
Recipes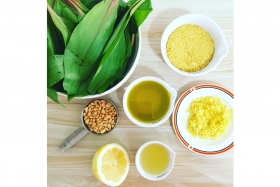 Recipes
May 20, 2018 by Jessica Lin, Dietetic Intern
Dietetic Intern Jessica Lin got creative with ramps, the hyper-seasonal sign of spring!
---
April 20, 2018 by Allison Aaron, Sr. Culinary Nutritionist
Do you really know what's in your protein powder? Allison discusses a recent report that examined contamination in this dietary supplement and discusses whether protein powders are a necessary addition to our diets.
---