Recipes
Recipe: Tuna Salad with Chickpea "Mayo"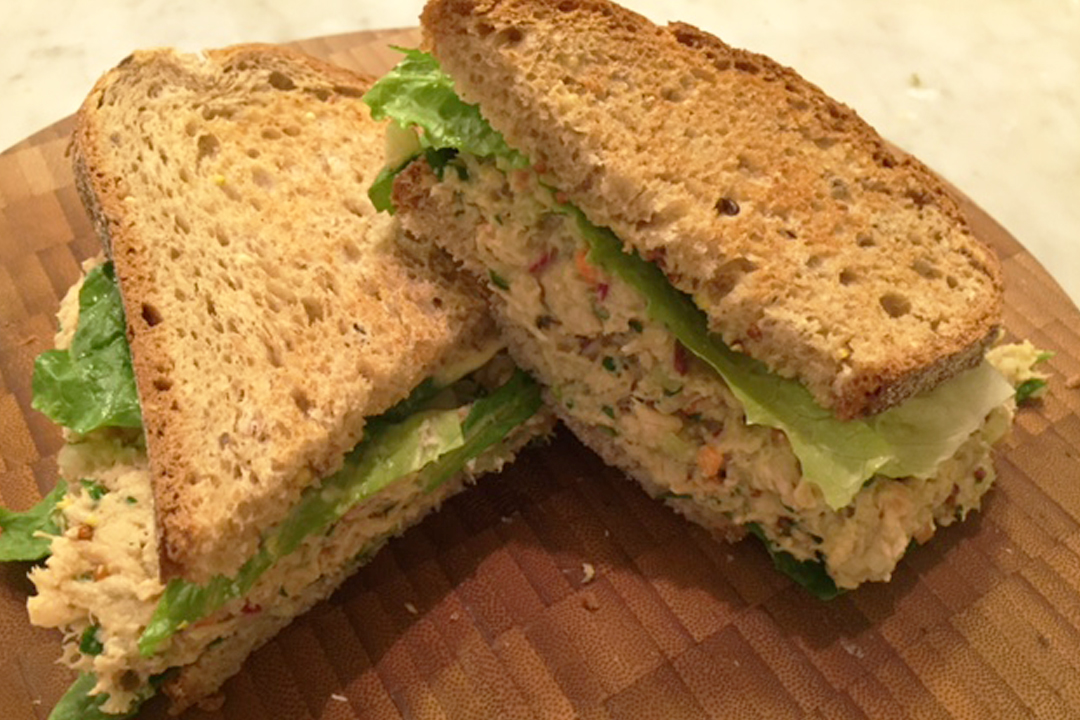 Chickpea liquid, or aquafaba, is popping up in more and more recipes. In this tuna salad, Kristy uses chickpeas and the aquafaba to make a chickpea "mayo" for a lighter take on this lunch staple. Lighter in calories and with 1/3 the saturated fat of typical tuna salad, this recipe is perfect for February, American Heart Month!
Tuna Salad with Chickpea "Mayo"
Serves 4
Chickpea "Mayo"
1 15-oz can low sodium chickpeas, drain and reserve 1/3 cup of the liquid
1/3 cup reserved liquid from chickpeas
3 ½ tbsp lemon juice (approximately 1 small lemon)
5 tbsp extra virgin olive oil
Combine all ingredients in blender and blend on high speed into smooth puree.
Yields 1 ¾ cup
Note: you will not need all of this for the tuna salad so use leftover chickpea puree to make hummus! Just add some tahini, minced garlic, pinch of salt and additional lemon juice and olive oil to taste.
Tuna Salad with Chickpea "Mayo"
2 6-oz cans albacore tuna, no salt added, drained
¾ cup Chickpea "Mayo"
3 tbsp lemon juice
1 ½ tbsp Dijon mustard
1 tsp dried oregano
¼ tsp kosher salt
¼ tsp ground black pepper
2 Tbsp minced shallot
¼ cup chopped parsley
½ cup finely chopped celery
1/3 cup finely chopped radish
1/3 cup finely chopped carrot
Add tuna to large bowl and flake apart with fork. Add chickpea "mayo", lemon juice, Dijon mustard, oregano, salt and pepper and mix well. Gently mix in remaining ingredients (shallot, parsley, celery, radish, and carrot) and stir until combined.
Nutritional Information per ¾ cup of tuna salad:
Calories: 230kcal
Fat: 10g
Saturated fat: 1.5g
Sodium: 300mg
Potassium: 290mg
Carbs: 9g
Fiber: 2g
Sugar: 3g
Protein: 24g
---
Recipes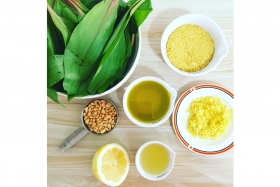 Recipes
May 20, 2018 by Jessica Lin, Dietetic Intern
Dietetic Intern Jessica Lin got creative with ramps, the hyper-seasonal sign of spring!
---
April 20, 2018 by Allison Aaron, Sr. Culinary Nutritionist
Do you really know what's in your protein powder? Allison discusses a recent report that examined contamination in this dietary supplement and discusses whether protein powders are a necessary addition to our diets.
---