Recipes
Recipe: Spiced Winter Salad
Spices are an amazing way to amp up a dish's flavor and nutritional value. This salad features a mix of dried spices that are a perfect complement to some of my favorite winter ingredients - cauliflower, pomegranate, and fennel. The spices, roasted cauliflower and toasted hazelnuts bring warmth to the dish while the dressing, fresh parsley, pomegranate seeds and raw fennel brighten it up.
Many of you may have these spices already in your pantry but for those of you who may not want to buy a lot at once, there are now companies out there selling smaller amounts and even offering monthly subscription services to try different spice blends. One that we think is pretty cool that actually inspired us to create this recipe is Raw Spice Bar and there are others as well, such as Spice Madam and The Spicery.
Winter Salad with Roasted Cauliflower, Pomegranate and Fennel
Makes 4 servings
Spice Roasted Cauliflower
5 cups bite-size cauliflower florets
2 Tbsp olive oil
½ tsp salt
1 tsp coarsely ground caraway
1 tsp coarsely ground fennel seed
½ tsp ground cumin
½ tsp ground coriander
¼ tsp ground black pepper
Preheat oven to 400F. Toss cauliflower florets with olive oil, salt and spices and spread into an even layer on a rack on a baking sheet. Roast at 400F for 20 minutes or until cauliflower browns. Set aside.
Lemon Vinaigrette
1 Tbsp lemon juice
½ tsp Dijon mustard
1 tsp whole grain mustard
2 Tbsp extra virgin olive oil
¼ tsp salt
¼ tsp ground coriander
¼ tsp ground cumin
Whisk together all of the ingredients above until emulsified.
Winter Salad
4 cups baby arugula
1/3 cup picked parsley leaves
1 packed cup thinly sliced fennel
Black pepper to taste
¼ cup Lemon Vinaigrette (full recipe above)
3 cups Roasted Cauliflower (full recipe above)
¼ cup toasted hazelnuts, coarsely chopped
½ cup pomegranate seeds
Fleur de sel to taste
Gently toss all of the ingredients above and divide into 4 salad bowls. Note: arugula will wilt quickly so toss with dressing and salt immediately before serving.
Nutrition Information Per Serving:
Calories: 250kcal
Fat: 20g
Saturated Fat: 2.5g
Carbohydrates: 15g
Fiber: 6g
Sugar: 7g
Protein: 5g
Sodium: 410mg
Potassium: 690mg
---
April 20, 2018 by Allison Aaron, Sr. Culinary Nutritionist
Do you really know what's in your protein powder? Allison discusses a recent report that examined contamination in this dietary supplement and discusses whether protein powders are a necessary addition to our diets.
---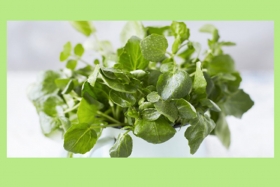 March 19, 2018 by Kat Villarino, Dietetic Intern
Dietetic Intern Kat Villarino covers why watercress is such a nutrient powerhouse and shares how you can incorporate more of it into your diet. Check out her infographic!
---