Recipes
Healthy Latke Recipe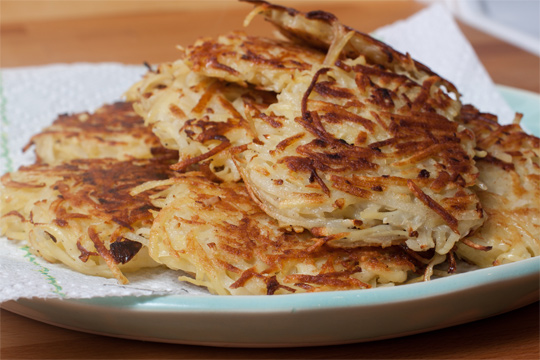 Photo: Tim Sackton
Culinary Nutritionist Abbie Gellman presents a healthy appetizer for Hanukkah: Potato Zucchini Latkes with Applesauce.
Most American Jews would likely agree that Hanukkah would not (could not) be the same without potato latkes - crispy, golden, fried potato pancakes flavored with onion. So at SPE Certified we set about creating a healthy latke recipe, complete with homemade applesauce, in an effort to provide a delicious alternative to the typical oil-soaked versions.
Go ahead, ess gesunt! - Eat in good health!

Healthy Potato Zucchini Latkes and Applesauce
Makes 12 servings

Latkes:
1 ¼ pounds russet potatoes, skin on, grated
1 medium zucchini, about ⅓ cup, skin on, grated
1 large onion, about 1 cup, grated
2 medium shallots, about ¼ cup, minced
1 tsp salt
1 large egg, lightly beaten
2 pieces whole wheat matzoh
½ tsp black pepper
3 tbsp extra virgin olive oil (or if you're feeling extra traditional, trade out the olive oil for schmaltz –that's Yiddish for chicken fat!)
Applesauce:
1 ½ pounds apples, skin on, halved and cored
¼ tsp cinnamon
1 tsp lemon zest
2 tsp lemon juice, fresh
½ cup water
Directions

For Latkes:
Preheat oven to 425 degrees.
Toss together potato, zucchini, onion, shallot, and salt in a bowl. Transfer mixture to a colander set over a bowl and allow vegetables to drain for approximately 15 minutes. Squeeze the mixture one handful at a time over the bowl to release additional liquid. Transfer squeezed mixture to different bowl. Separate potato starch sediment from liquid and add potato starch back to potato mixture. Stir in egg.
Break matzoh into pieces, place in sealable bag, and crush with rolling pin or mallet into coarse crumbs. Add crumbs and black pepper to potato mixture and combine. Cover bowl and refrigerate for approximately 30 minutes; crumbs should be soft.
Heat 1 tablespoon oil in a skillet over medium heat. Take ¼ cup potato mixture and form a 3 ½ inch cake, place in skillet; repeat and cook four latkes at a time. Cook approximately 2 to 3 minutes per side until crispy and golden, then transfer latkes to baking sheet. Repeat with 2 more batches using 1 tablespoon of oil per batch. Once complete, transfer baking sheet to oven and bake approximately 10 minutes.
For Applesauce:
Place all ingredients in large pot and bring to a boil. Reduce heat and simmer, covered, for 30 minutes. Remove pan from heat and allow to cool.
Purée to desired texture, chunky or smooth.
Nutritional information per serving (1 latke and ~2 oz applesauce):

Calories: 130
Carbohydrates: 22g
Fiber: 3g
Fat: 4g
Saturated Fat: 0.5g
Sodium: 200mg
Protein: 3g
---
April 20, 2018 by Allison Aaron, Sr. Culinary Nutritionist
Do you really know what's in your protein powder? Allison discusses a recent report that examined contamination in this dietary supplement and discusses whether protein powders are a necessary addition to our diets.
---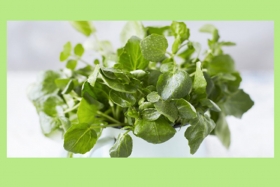 March 19, 2018 by Kat Villarino, Dietetic Intern
Dietetic Intern Kat Villarino covers why watercress is such a nutrient powerhouse and shares how you can incorporate more of it into your diet. Check out her infographic!
---