Recipes
Grilled Corn, Heirloom Tomato and Chickpea Salad Recipe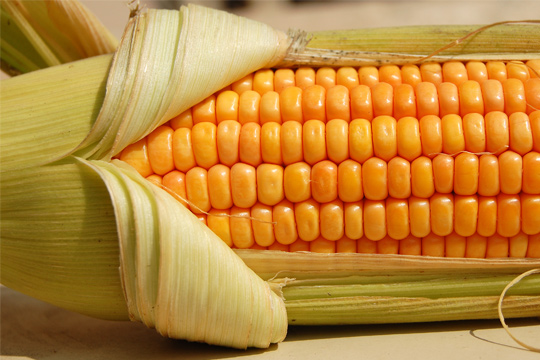 Sr. Culinary Nutritionist shares one of her favorite salad recipes utilizing fresh sweet corn.
If you've stopped by any farmers' markets or fresh produce stands recently you have no doubt seen plenty of sweet corn. It is absolutely delicious boiled on the cob with a little butter or olive oil and salt. One of my favorite ways to eat corn is with a little chili or lime juice. If you are looking for a quick and easy corn recipe, you've come to the right place - this is one of my favorite fresh corn recipes. Be quick though -- fresh corn will only be in season for a couple more weeks!
Makes 6 servings

4 ears sweet corn, shucked
2 large heirloom tomatoes, chopped
1 15 oz. can chickpeas (strained and rinsed)
1 large shallot, minced
¼ cup extra virgin olive oil
½ cup balsamic vinegar
½ tsp sea salt
¼ cup black pepper
¼ cup fresh basil, chiffonade
2 tbsp fresh oregano
Directions

Blacken corn on grill or gas burner and cut kernels off of the cob once they have cooled.
Put corn, chopped tomatoes, chickpeas and shallots in a large bowl.
Whisk together olive oil, balsamic vinegar, salt and pepper and pour over corn, tomato and chickpeas. Toss well.
Garnish with fresh herbs.
Nutritional information per serving:

Calories: 213
Carbohydrates: 25g
Fiber: 3g
Fat: 11g
Saturated Fat: 1g
Sodium: 311mg
Protein: 5g
---
April 20, 2018 by Allison Aaron, Sr. Culinary Nutritionist
Do you really know what's in your protein powder? Allison discusses a recent report that examined contamination in this dietary supplement and discusses whether protein powders are a necessary addition to our diets.
---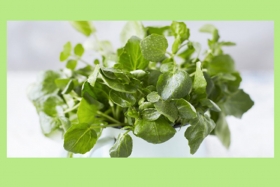 March 19, 2018 by Kat Villarino, Dietetic Intern
Dietetic Intern Kat Villarino covers why watercress is such a nutrient powerhouse and shares how you can incorporate more of it into your diet. Check out her infographic!
---