Recipes
Chilled Beet and Apple Soup
Sr. Culinary Nutritionist Kristy Del Coro shares her bright and nutritious Chilled Beet and Apple Soup recipe.
Chilled Beet and Apple Soup
Serves 6
For the soup:
3 large beets, peeled & halved
4-5 cups water
¾ Tbsp + 2 Tbsp olive oil
1 large Granny Smith apple, sliced into ¼" thick wedges
½ cup thinly sliced red onion
½ cup thinly sliced fennel
1 ¼ tsp kosher salt
Ground black pepper, to taste
2 sprigs fresh thyme
1 Tbsp + 2 Tbsp red wine vinegar
For the garnish:
2 Tbsp fresh dill
1 ½ Tbsp minced chives
1 ½ cup Greek yogurt (seasoned with pinch of salt and thinned out with touch of water)
1 ½ cups sautéed apples (Peel 2-3 honeycrisp apples and small dice (¼") to yield 1 ½ cups. Add ½ Tbsp oil to saute pan, warm until shimmering and add diced apples. Saute until just tender.)
Directions
Place beets in pot with 3 cups of water (enough to cover). Bring to a boil and cook for 30-40 minutes so that they start to soften.
Heat ¾ Tbsp olive oil in a stock pot over medium heat. Add the onion and fennel and season with ½ tsp salt. Sweat over medium heat for about 5 minutes or until the fennel and onion start to soften. Deglaze with 1 Tbsp red wine vinegar. Add the apple and season with 1/4 tsp salt and some black pepper. Add the thyme to the pot and continue to cook for another 5 minutes until apples start to soften.
Add the beets along with all their cooking liquid to the stock pot. Add an additional 2 cups water and bring to a boil. Reduce to a simmer and cook for approximately 30 minutes or until beets are soft enough to puree.
When ready to blend, remove sprigs of thyme, and transfer soup ingredients to a blender. In batches, blend with 2 Tbsp olive oil, 2 Tbsp red wine vinegar and 1 tsp salt. When soup is blended, place in refrigerator to chill. After it has cooled and before serving, check seasoning and consistency and adjust if necessary with more water.
Serve 1 cup of soup garnished with1 tsp picked fresh dill, ½ tsp minced chives, 1 Tbsp Greek yogurt and 1 Tbsp sautéed apples
Nutrition information per serving:
Calories: 120kcal
Fat: 7g
Saturated Fat: 1g
Fiber: 3g
Protein: 3g
Carbohydrates: 13g
Sodium: 280mg
Potassium: 270mg
---
April 20, 2018 by Allison Aaron, Sr. Culinary Nutritionist
Do you really know what's in your protein powder? Allison discusses a recent report that examined contamination in this dietary supplement and discusses whether protein powders are a necessary addition to our diets.
---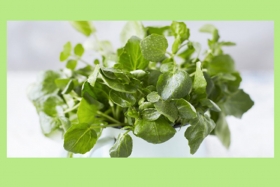 March 19, 2018 by Kat Villarino, Dietetic Intern
Dietetic Intern Kat Villarino covers why watercress is such a nutrient powerhouse and shares how you can incorporate more of it into your diet. Check out her infographic!
---