Recipes
Apricot Gelt Recipe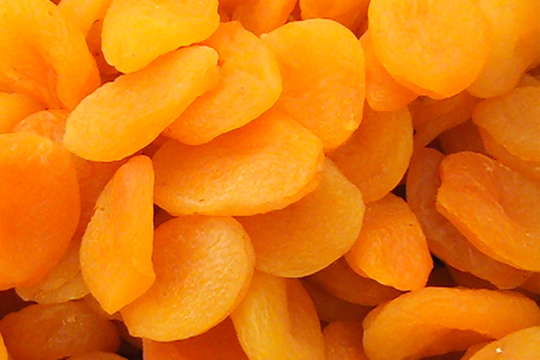 Photo: Itinerant Tightwad
R.D. Abbie Gellman shares a great way to incorporate fruit into your Thanksgivukkah dessert with this healthy recipe for Apricot Gelt.
The finale in our Thanksgivukkah series is, as expected, dessert! A long standing Hanukkah tradition is to give children chocolate gelt, which are "coins" made of chocolate wrapped in gold foil. Here's our fruity twist on Hanukkah gelt, made of dried apricots dipped in chocolate and garnished with sea salt for a sweet and salty treat.
Gut Yontiff! Happy holiday!

Healthy Apricot Gelt Recipe
Makes ~ 12 servings (6 pcs per person)

1 ½ lbs. dried apricots
1 lb. dark chocolate chips
1 tbsp. sea salt
Directions

Using heavy skillet or mallet, flatten apricots to ~1/4 inch thick and set aside.
Place chocolate in a microwave safe bowl. Microwave in 15-second intervals, stirring and scraping down sides between, until chocolate is just melted.
Dip each apricot in chocolate, coating ½ to ¾ of the apricot. Place on wire racks set over parchment or wax paper, sprinkle with sea salt, and let stand until set.
Transfer apricots to baking sheets lined with parchment or wax paper and refrigerate until firm. Can be refrigerated in an airtight container up to 3 days.
Nutritional information per serving:

Calories: 250kcal
Carbohydrates: 35g
Fiber: 3g
Fat: 11g
Saturated Fat: 6g
Sodium: 390mg
Protein: 2g
---
April 20, 2018 by Allison Aaron, Sr. Culinary Nutritionist
Do you really know what's in your protein powder? Allison discusses a recent report that examined contamination in this dietary supplement and discusses whether protein powders are a necessary addition to our diets.
---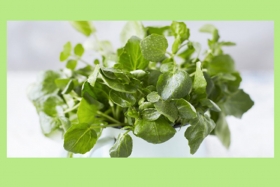 March 19, 2018 by Kat Villarino, Dietetic Intern
Dietetic Intern Kat Villarino covers why watercress is such a nutrient powerhouse and shares how you can incorporate more of it into your diet. Check out her infographic!
---