News Commentary, Nutrition 101
What You Really Need to Know About the Upcoming Dietary Guidelines
What changes may be in-store for the 2015 Dietary Guidelines?
Recently the 2015 Dietary Guidelines Advisory Committee (DGAC) submitted its report to advise the US Departments of Health and Human Services (HHS) and Agriculture (USDA) as they jointly draft the 2015 Dietary Guidelines for Americans. While it is up to the HHS and USDA if and how recommendations from the advisory committee are incorporated into the final set of guidelines, there are several promising recommendations worth noting.

Similar to previous years, the committee noted that American diets are too high in sodium and saturated fat and are falling short when it comes to calcium, vitamin D, fiber, and potassium. However, this year's report has relaxed the dietary cholesterol recommendations of previous years (read about why dietary cholesterol does not contribute significantly to blood cholesterol levels for most people) and recommended no more than 10% of calories come from added sugars.

For the first time, the committee has recognized the significance of a sustainable food system and the intersection of human and environmental health. Dietary patterns that include more plant-based foods such as vegetables, fruits and whole grains are beneficial not just for people but also the planet!

Importantly, the report emphasized that dietary recommendations are not meant to increase or reduce nutrients in isolation. When reducing consumption of foods with higher levels of sodium, saturated fat, or added sugars, we must also consider what we are adding to our diets to fill the gaps. Rather than opting for low sodium, low fat or artificially sweetened processed foods, incorporating more minimally processed vegetables, fruits and whole grains with smaller portions of lean proteins will be good for our health and the environment.

Here at SPE Certified, we are happy to see that so many of our nutritional and environmental priorities are mirrored in the DGAC's report!
---
April 20, 2018 by Allison Aaron, Sr. Culinary Nutritionist
Do you really know what's in your protein powder? Allison discusses a recent report that examined contamination in this dietary supplement and discusses whether protein powders are a necessary addition to our diets.
---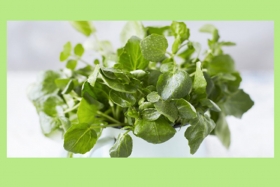 March 19, 2018 by Kat Villarino, Dietetic Intern
Dietetic Intern Kat Villarino covers why watercress is such a nutrient powerhouse and shares how you can incorporate more of it into your diet. Check out her infographic!
---