Recipes
Summer Squash Salad with Basil Oil and Lemon Ricotta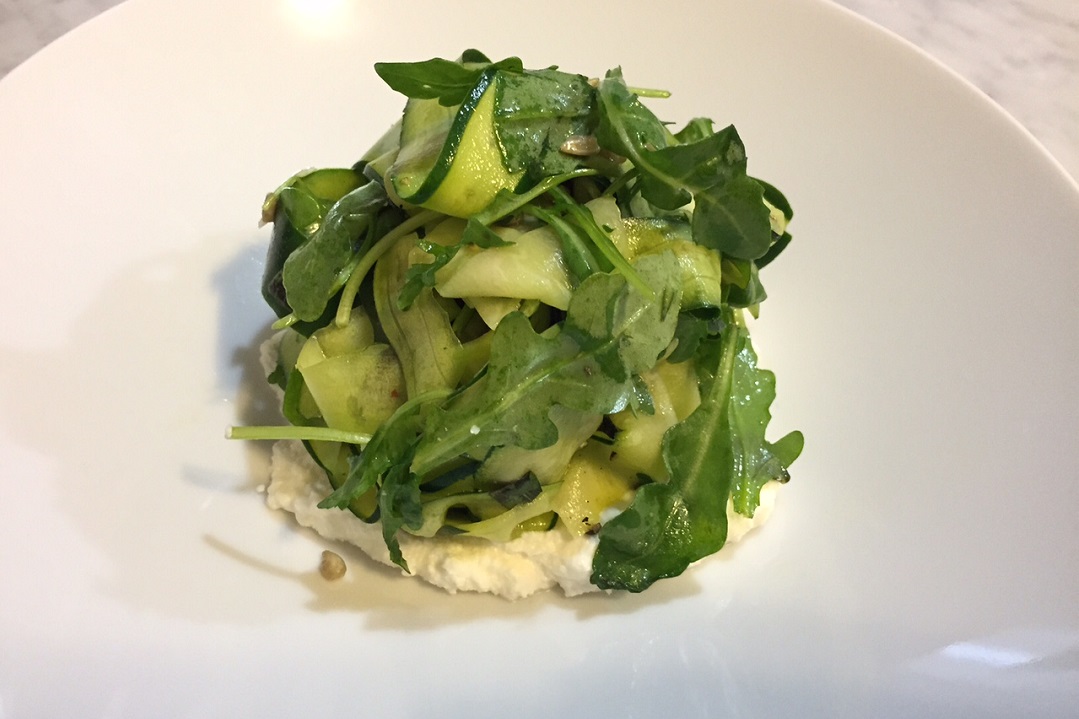 This Summer Squash Salad with Basil Oil and Lemon Ricotta is yet another bright, fresh way to use summer squash.
Summer Squash Salad with Basil Oil and Lemon Ricotta
Serves 4
1 large green zucchini
1 large yellow squash
1 1/2 cups wild arugula
2 Tbsp toasted Sunflower Seeds
2 Tbsp chopped fresh basil
1/4 tsp salt
1/2 Tbsp lemon juice
1 Tbsp Basil Oil (see recipe below)
black pepper
1/2 cup Lemon Ricotta (see recipe below)
Fleur de sel
Directions:
Using a vegetable peeler, shave raw zucchini and squash lengthwise to create squash "ribbons" and add to large bowl (note: once you get to the core, it will be hard to continue shaving so reserve any extra for another use. You should get approximately 2 - 2.5 cups of shaved squash ribbons from 2 squash). To same bowl, add wild arugula, sunflower seeds, chopped basil, salt, lemon juice, and basil oil. Gently mix so that salad mix is nicely coated with dressing. Season with black pepper to taste.
Lemon Ricotta
1/2 cup whole milk ricotta
1/2 tsp lemon juice
Zest from 1/2 lemon
Pinch of salt (1/8 - 1/4 tsp depending on saltiness of ricotta)
Directions:
Whisk all ingredients together until well combined. Set aside.

Basil Oil
1 packed cup fresh basil leaves, washed and dried well
1 cup olive oil
Directions:
Warm oil in small pot over low heat until it is warm to the touch but not sizzling. Place basil leaves in blender and gradually add warm oil while blending. Blend for about 10 seconds. Using a fine mesh strainer lined with cheese cloth or a coffee filter, immediately strain oil into a metal bowl over ice. Reserve.
To plate:
Spoon 2 Tbsp Lemon Ricotta on bottom of each plate and top with equal portions of salad mix. Garnish with a small pinch of fleur de sel.
Nutrition Info for Salad per serving:
Calories: 130kcal
Fat: 10g
Saturated fat: 3.5g
Fiber: 2g
Protein: 6g
Sugars: 3g
Sodium: 230mg
Potassium: 350mg
---
April 20, 2018 by Allison Aaron, Sr. Culinary Nutritionist
Do you really know what's in your protein powder? Allison discusses a recent report that examined contamination in this dietary supplement and discusses whether protein powders are a necessary addition to our diets.
---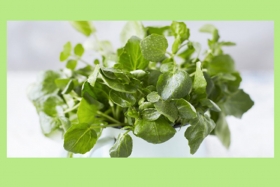 March 19, 2018 by Kat Villarino, Dietetic Intern
Dietetic Intern Kat Villarino covers why watercress is such a nutrient powerhouse and shares how you can incorporate more of it into your diet. Check out her infographic!
---