Recipes
Strawberry­‐Knotweed Soufflé Recipe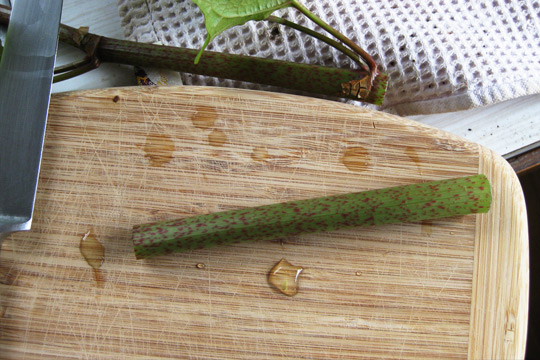 Photo credit: Jess Beemouse
Dietetic Intern Tim Chin shares a healthy and delicious dessert recipe using the commonly misunderstood "knotweed."
Makes 6-8 4 oz servings.

3 oz strawberries, hulled and quartered
1 oz diced Japanese knotweed (8-­12 inch stalks)
5 tbsp sugar
2 tbsp crème de cassis
1 oz butter
1.5 oz milk
2 tbsp cornstarch
5 oz strawberry jam
¾ tsp cream of tartar
¼ tsp salt
8 egg whites
Directions

Combine strawberries, knotweed, 1 tbsp sugar and crème de cassis in a saucepot and cook, stirring occasionally. Bring to boil and simmer for about 10-­15 minutes until broken down.
Transfer mixture to blender or use stick blender to process the mixture until smooth. Cool the mixture over an ice bath or chill in the refrigerator about 1 hour.
Preheat oven to 400 degrees. Meanwhile, brush some butter or oil inside soufflé ramekins and coat with a layer of sugar, shaking off excess.
In another saucepot, whisk butter, milk, and cornstarch together and bring to boil. Turn off heat, whisk in strawberry jam, then add to strawberry‐knotweed purée and whisk until homogenized. The mixture should be room temperature or colder.
In a clean bowl, whisk or whip whites in a stand mixer until white and foamy. Add cream of tartar and salt. Gradually sprinkle in 4 tbsp sugar while whipping and whip until stiff peaks form.
Fold ⅓ of egg whites into strawberry-­knotweed mixture to lighten and gently fold in the remaining whites. Distribute the batter into each ramekin and bake, turning temperature to 375 degrees immediately. Bake until puffed and set, about 20 minutes. Do not open oven to check until the last five minutes of baking, or else risk deflating the soufflé.
Note: the soufflé is done when the top is golden and firm, but the soufflé jiggles with a gentle shake.
Nutritional information per serving:

Calories: 136
Protein: 3g
Carbohydrates: 24g
Fat: 3g
Saturated Fat: 2g
Sodium: 132mg
---
April 20, 2018 by Allison Aaron, Sr. Culinary Nutritionist
Do you really know what's in your protein powder? Allison discusses a recent report that examined contamination in this dietary supplement and discusses whether protein powders are a necessary addition to our diets.
---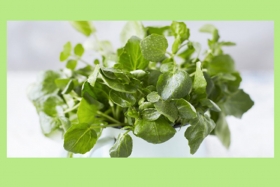 March 19, 2018 by Kat Villarino, Dietetic Intern
Dietetic Intern Kat Villarino covers why watercress is such a nutrient powerhouse and shares how you can incorporate more of it into your diet. Check out her infographic!
---