Exercise
Sticking to Your Exercise Regime: Home and Office Exercises
Dietitian Jason Lau shares his tips on how to stay fit with exercise tips for home and office workouts.
Even though one of your New Year's resolutions may be to exercise more, it can be hard finding the time to exercise each and every day. For example, your exercise regime may require you breaking a sweat five days a week, but you're having difficulty fitting in just two or three gym sessions.
Believe it or not, you can actually supplement your workouts at home or in your office with ease. When stuck indoors, during TV commercials or even on my office lunch break, I'll often try and fit in some simple exercises.
A few easy exercises that I like to do are wall squats, desk pushups and lunges. It's really easy to change the intensity of these activities depending on your environment or how much time you have available. For more information on exercises you can you in the office, check out this article from WebMD.
Helpful tips for staying active at work
Always take the stairs. Those three flights add up when you take them twice a day, five days a week.
Offer to go on coffee runs… literally! Lace up your running shoes and jog to the nearest coffee shop. 1-2 miles should take no longer than 20 minutes. Cool down with a power walk back; everyone in the office will love you!
Stand or walk while on the phone, if possible. Pacing back and forth can rack up calories without you even realizing.
Exit the subway a stop earlier. A brisk walk will wake you up in the morning and it'll give you a chance to stretch your legs before you get home.
For more exercise tips, read How a Young Foodie Stays Fit: Advice from a Dietitian
Do you have difficulty finding enough time to exercise? Or have you mastered the art of the office workout? Share your tips and tricks with us below!
---
April 20, 2018 by Allison Aaron, Sr. Culinary Nutritionist
Do you really know what's in your protein powder? Allison discusses a recent report that examined contamination in this dietary supplement and discusses whether protein powders are a necessary addition to our diets.
---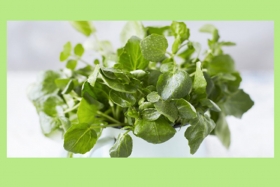 March 19, 2018 by Kat Villarino, Dietetic Intern
Dietetic Intern Kat Villarino covers why watercress is such a nutrient powerhouse and shares how you can incorporate more of it into your diet. Check out her infographic!
---