Recipes
Spiced Carrot Cake Recipe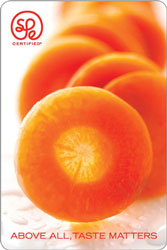 These gorgeous muffins contain just 1g of saturated fat each - learn how to make them at home with our SPE-certified recipe!
Makes 28 - 1 oz. muffins

¾ cup all-purpose flour
¾ cup whole wheat flour
¾ cup brown sugar
1½ tsp. baking soda
¼ tsp. salt
1 tsp. cinnamon
¼ tsp. nutmeg
½ tsp. cloves
6 oz. olive oil
1 egg, beaten
½ cup carrot, shredded
½ cup raisins
1½ tsp. vanilla extract
8 oz. V8 juice (low sodium)
½ cup walnuts, chopped (optional)
Directions

Combine first eight dry ingredients in a large bowl and set aside.
In a new bowl add oil, carrot, raisins, vanilla, V8, and walnuts if desired.
Incorporate the wet ingredients into the dry ingredients until just mixed, being careful not to over-mix.
Coat muffin tin with cooking spray, then fill molds ¾ full with batter.
Bake at 350˚F for 15 to 18 minutes.
Nutritional information per 1 oz. muffin:

Calories: 110kcal
Fat: 6g
Saturated Fat: 1g
Protein: 1g
Carbs: 13g
Fiber: 1g
Sodium: 98mg
Potassium: 63mg
---
Latest Posts
News Commentary, Nutrition 101
May 16, 2013 by Andrea Canada, Senior Culinary Nutritionist
Senior Culinary Nutritionist Andrea Canada comments on a recent report from the Institute of Medicine concerning low sodium intake.

Nutrition 101
May 14, 2013 by Dana Mortell, Dietetic Intern
Dietetic Intern Dana Mortell addresses some common nutrition myths surrounding vitamin supplements and caffeine-laden drinks in the first of a mini-series of blog posts.
---