Recipes
Spiced Carrot Cake Recipe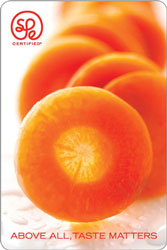 These gorgeous muffins contain just 1g of saturated fat each - learn how to make them at home with our SPE-certified recipe!
Makes 28 - 1 oz. muffins

¾ cup all-purpose flour
¾ cup whole wheat flour
¾ cup brown sugar
1½ tsp. baking soda
¼ tsp. salt
1 tsp. cinnamon
¼ tsp. nutmeg
½ tsp. cloves
6 oz. olive oil
1 egg, beaten
½ cup carrot, shredded
½ cup raisins
1½ tsp. vanilla extract
8 oz. V8 juice (low sodium)
½ cup walnuts, chopped (optional)
Directions

Combine first eight dry ingredients in a large bowl and set aside.
In a new bowl add oil, carrot, raisins, vanilla, V8, and walnuts if desired.
Incorporate the wet ingredients into the dry ingredients until just mixed, being careful not to over-mix.
Coat muffin tin with cooking spray, then fill molds ¾ full with batter.
Bake at 350˚F for 15 to 18 minutes.
Nutritional information per 1 oz. muffin:

Calories: 110kcal
Fat: 6g
Saturated Fat: 1g
Protein: 1g
Carbs: 13g
Fiber: 1g
Sodium: 98mg
Potassium: 63mg
---
April 20, 2018 by Allison Aaron, Sr. Culinary Nutritionist
Do you really know what's in your protein powder? Allison discusses a recent report that examined contamination in this dietary supplement and discusses whether protein powders are a necessary addition to our diets.
---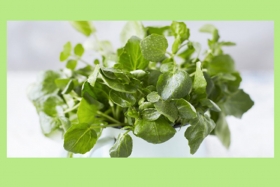 March 19, 2018 by Kat Villarino, Dietetic Intern
Dietetic Intern Kat Villarino covers why watercress is such a nutrient powerhouse and shares how you can incorporate more of it into your diet. Check out her infographic!
---