Recipes
Shrimp Saganaki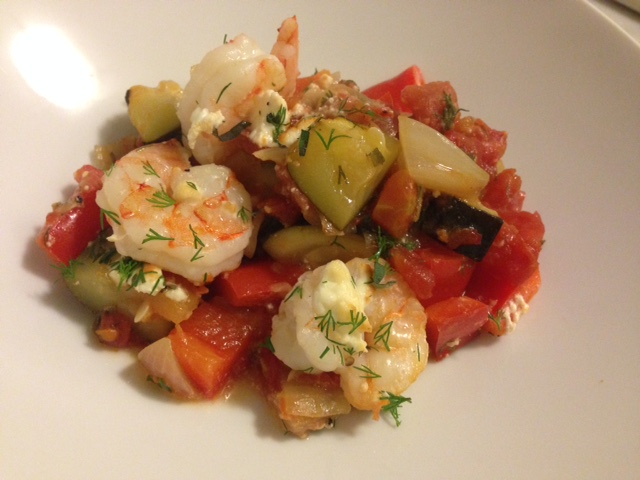 Saganaki is the name for a Greek skillet used to prepare a variety of dishes which share the name. SPE's culinary nutritionist Kristy Del Coro shares her healthier version of Shrimp Saganaki, featuring domestic shrimp, tomatoes, peppers and zucchini.
Shrimp Saganaki with Whole Wheat Orzo
Serves 5
1 Tbsp extra virgin olive oil
1 large onion, diced
¼ cup ouzo (optional; can replace with water)
4 large garlic cloves, thinly sliced
1 large red bell pepper, diced into ½" pieces
1 large green zucchini, diced into ½" pieces
Pinch sea salt, or to taste
1 14.5-oz can diced tomatoes
3 Tbsp chopped fresh oregano
3 Tbsp chopped fresh dill
1 bay leaf
Pinch red chili flake (or more depending on how spicy you want it)
Black pepper to taste
6 oz crumbled feta cheese
1 lb wild domestic shrimp, peeled, deveined, tails removed
Juice of ½ lemon
2 ½ cups cooked whole wheat orzo
Instructions:
Preheat broiler.
Heat oil in extra large oven safe saute pan over medium heat. Add onion and 1 Tbsp of the ouzo (or water) and saute until softened (about 5 minutes). Add garlic, bell pepper, zucchini, and season with salt. Add remaining 3 Tbsp ouzo (or water) and cook, stirring frequently to prevent from over-browning, until vegetables are tender (about 8 minutes). Add tomatoes with their liquid, 2 Tbsp oregano, 2 Tbsp dill, the bay leaf, black pepper, and hot chili flakes. Mix gently to combine and bring to a simmer. Cover and continue to cook for about 10 minutes. Remove from heat.
Remove the bay leaf and add the shrimp in a single layer on top of the tomato mixture. Sprinkle evenly with the feta cheese. Broil for 5-7 minutes or until shrimp are cooked through and feta cheese starts to brown. Let sit for a few minutes to cool.
Garnish with remaining oregano and dill and drizzle of lemon juice before serving. Serve with ½ cup cooked whole wheat orzo per person.
Nutrition information per serving:
Calories: 370kcal
Fat: 12g
Saturated Fat: 6g
Fiber: 6g
Protein: 29g
Carbohydrates: 33g
Sodium: 690mg
Potassium: 530mg
---
April 20, 2018 by Allison Aaron, Sr. Culinary Nutritionist
Do you really know what's in your protein powder? Allison discusses a recent report that examined contamination in this dietary supplement and discusses whether protein powders are a necessary addition to our diets.
---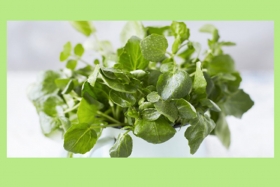 March 19, 2018 by Kat Villarino, Dietetic Intern
Dietetic Intern Kat Villarino covers why watercress is such a nutrient powerhouse and shares how you can incorporate more of it into your diet. Check out her infographic!
---