Recipes
VIDEO: Roasted Garden Vegetable Marinara Recipe
A healthy, delicious garden marinara sauce made with roasted vegetables. This versatile, nutritious and delicious marinara is less than 40 calories per serving.

2 ½ lbs tomatoes, halved
1 large carrot, halved
1 small onion, peeled and halved
1 shallot, peeled and halved
3 cloves garlic, peeled and halved
1 small red bell pepper, cored and halved
1 small jalapeño, cored and halved
2 tbsp olive oil
1 tsp salt
Directions

Preheat oven to 375 degrees and place vegetables skin side down in a large roasting pan.
Drizzle the vegetables with 1 tbsp of the olive oil and sprinkle with ½ tsp salt. Cover with foil and roast for 45 minutes.
After 45 minutes, remove the foil and continue baking another 15 minutes uncovered. Remove from the oven and pour off extra cooking liquid and reserve.

Purée the vegetables in the blender with remaining tablespoon of the olive oil and ½ teaspoon of the salt. Use some of the reserved cooking liquid if needed to blend.
Sauce should be sweet, spicy, flavorful and bright orange in color. Add red pepper flakes for a spicier sauce. Serve over pasta.
Note: Can be frozen for up to 2 months.
Nutritional information per 1/2 cup serving:

Calories: 40kcal
Fat: 2g
Saturated fat: 0g
Protein: 1g
Carbs: 6g
Fiber: 1g
Sodium: 160mg
---
April 20, 2018 by Allison Aaron, Sr. Culinary Nutritionist
Do you really know what's in your protein powder? Allison discusses a recent report that examined contamination in this dietary supplement and discusses whether protein powders are a necessary addition to our diets.
---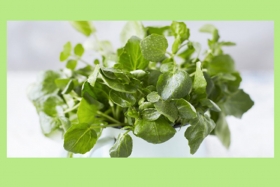 March 19, 2018 by Kat Villarino, Dietetic Intern
Dietetic Intern Kat Villarino covers why watercress is such a nutrient powerhouse and shares how you can incorporate more of it into your diet. Check out her infographic!
---