Interviews
Q&A with Anthony Moraes, Executive Chef at SPE Certified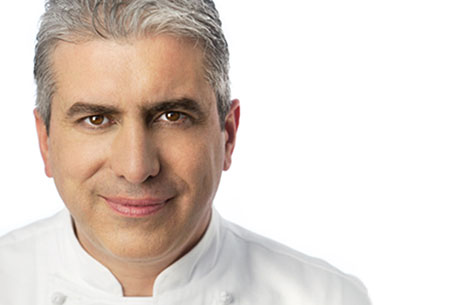 As the Executive Chef at SPE Certified, Anthony Moraes is right at the heart of the action when it comes to the creativity and ingenuity behind SPE-certified dishes. His role in the development of recipes and tweaking of ingredients to bring them up to SPE specifications is crucial, so I spent some time with Anthony to find out a little more about the man behind the food…
Q: SPE Certified's goal is to bring healthy but delicious food to as many people as possible. Has nutrition always been important to you as a chef?
A: Yes! I began my career as a chef working for Michel Nischan at Heartbeat Restaurant in NYC. This was NYC's first high-end, no cream, no butter concept in the early 2000's. Although always living a very active lifestyle and paying close attention to my own nutrition, this started me on my path towards becoming a "Healthy Chef".
After Heartbeat I left for Europe to cook at the 2 Michelin Star Vila Joya in the Algarve region of Portugal. Here I developed a deep respect for ingredients as we would sometimes forage the cliffs surrounding the resort for fresh herbs, flowers and berries. Upon my return to the States, I was hired by Danny Meyer as a sous chef at Eleven Madison Park. There I continued to hone my culinary skills at one of NYC's most popular restaurants.
I then wanted to share the knowledge and experience I have been fortunate to receive so I took a teaching position at The Natural Gourmet Institute for Health and Culinary Art. Given my love of being outdoors, staying healthy and fit naturally and my passion for cooking, I started The Natural Training Center with a good friend in order to bring this philosophy of a natural, clean and healthy lifestyle to everyone.
Q: What made you decide to leave the restaurant kitchen and join SPE Certified as Executive Chef?
A: When I was approached with the opportunity to lead SPE Certified as Executive Chef, I felt that this was possibly a position where I could make a profound impact on the state of health in this country, and heighten awareness by both chefs and their guests that we have a responsibility to ourselves and the Earth!
My initial meeting with SPE Certified's Founder and CEO, Emmanuel Verstraeten, left me with the impression of someone that truly cares about this mission, and it was a match made in heaven! Here was a place that I could bring my high level cooking experience, my desire to teach people and my passion for health and nutrition together on a world-class platform.
Q: Could you give me an insight into the process of creating an SPE dish? Who and what does it involve?
A: What it takes to create an SPE Certified dish is the beauty of SPE. I have the honor of working with some of the best culinary talents in the country and create beautiful dishes with them and within their culinary vision but with the added benefits of being healthy dishes as well, thanks to the amazing culinary nutritionists on the SPE team.
In terms of our process, it's important to know that SPE Certified is very respectful and mindful of the partner restaurant's and chef's culinary vision. We don't impose our recipes but rather help adapt the chef's existing ones.
Typically, we take the original recipe from our partner restaurant's chef, our Culinary Nutritionists analyze it for a nutritional profile and suggest ingredient substitutions/additions. Then either I or the partner restaurant's chef will cook it to make sure it still tastes amazing. During the process, we also suggest alternative cooking methods that can maintain and enhance the nutritional properties of a dish.
If we are creating a proprietary recipe for a restaurant, I will then create a new dish from scratch and have it analyzed by our Culinary Nutritionists Natalia Hancock and Andrea Canada. They'll give me a nutritional profile which allows us to capitalize on any food synergies and maximize flavor.
Q: As a chef, do you ever find it difficult to be creative while sticking to the SPE guidelines?
A: Oh no. On the contrary, I find that it heightens my creativity. Nutrition knowledge means we can make healthy and intelligent substitutions that don't affect the taste of the dish.
Q: Who are your culinary heroes? Did you have a mentor when you were learning your trade?
A: My first and all-time culinary hero would be English Chef Marco Pierre White. Not only was he the first English Chef to receive 3 Michelin stars, but also the youngest chef in the world to accomplish that feat. I was first struck by Marco's passion for the kitchen and delivering the best possible product he could. His actions and attitude were legendary. He was truly the first "Rock Star" Chef.
As for my mentor, it would have to be Chef Michel Nischan. Aside from being my first chef, he is at the forefront of healthy cooking and sustainability.
Q: Most chefs seem to have a favorite kitchen utensil – what is yours?
A: My favorite utensil is my first knife. It is a Misono, high carbon steel slicer that is completely stained (carbon steel stains not because it's dirty), has the perfect length (9"), fits great in my hand and I can get it razor sharp after a few strokes on my Japanese water stone.
Q: Do you have a favorite ingredient?
A: Plants.
Q: Any there any particular plants you've been using recently?
A: I incorporate seasonal plants into every dish that I create. Being that I use seasonal and local varietals, they are constantly changing depending on what is at its peak. Sourcing ingredients at their peak times allows me to not only maximize flavor, but also the nutritional properties of those ingredients.
Q: If you could eat at any restaurant in the world, which one would it be?
A: Joe Beef in Montreal. Although probably not considered the healthiest of restaurants, I admire the hard work and creativity that the chef/owners display. I like the fact that they are original, they source their ingredients locally, have recently published a great and different cookbook and they are in the beautiful city of Montreal.
---
April 20, 2018 by Allison Aaron, Sr. Culinary Nutritionist
Do you really know what's in your protein powder? Allison discusses a recent report that examined contamination in this dietary supplement and discusses whether protein powders are a necessary addition to our diets.
---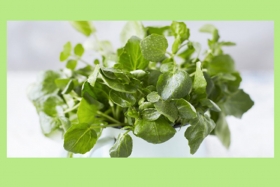 March 19, 2018 by Kat Villarino, Dietetic Intern
Dietetic Intern Kat Villarino covers why watercress is such a nutrient powerhouse and shares how you can incorporate more of it into your diet. Check out her infographic!
---