Recipes
Kimchi Wild Rice with Broccoli & Cashew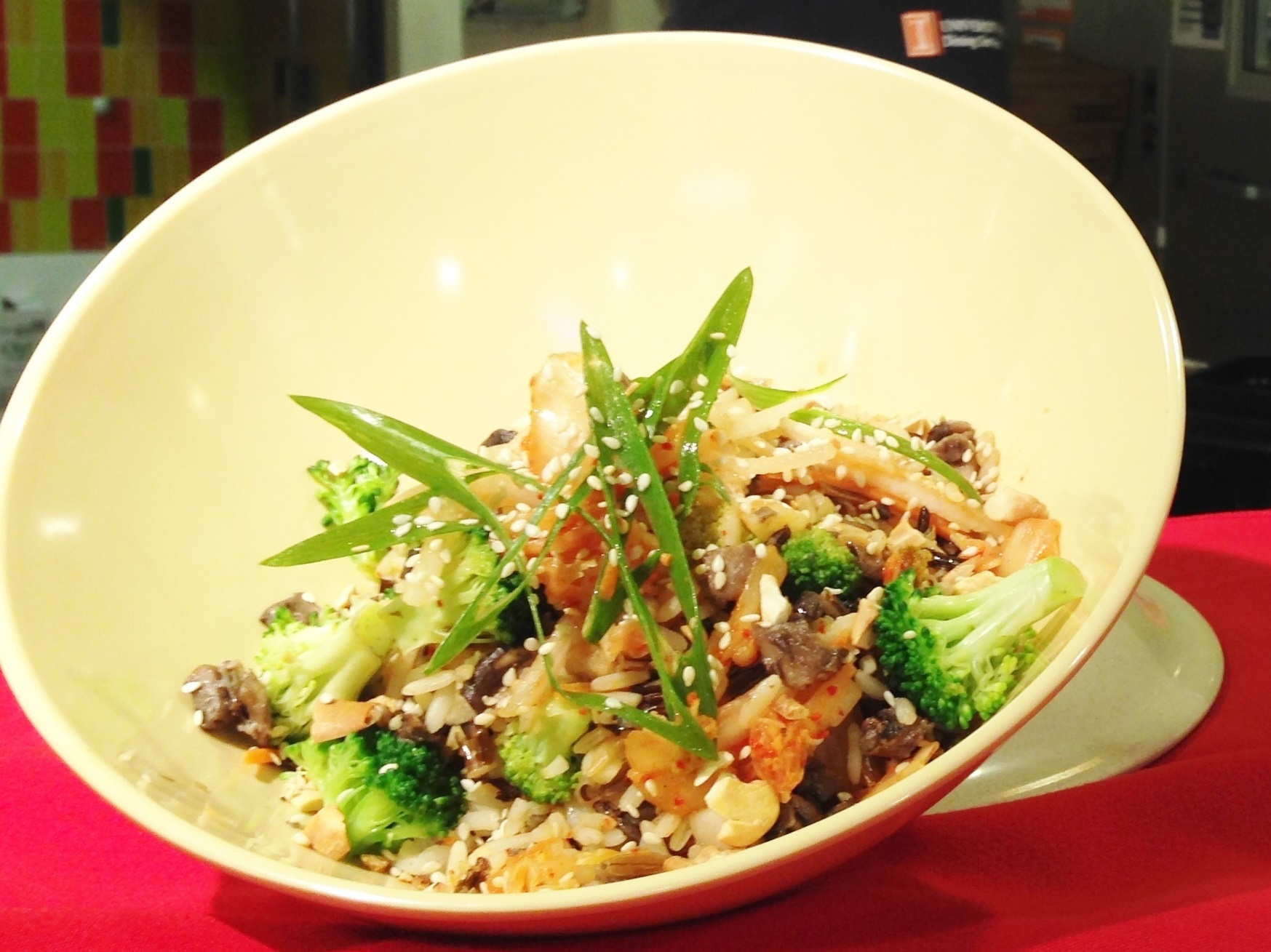 Try this nutritious and delicious take on a rice bowl, packed with fiber, vitamins and minerals.
Kimchi Wild Rice Bowl with Broccoli & Cashew
Serves 4
2 ½ tbsp olive oil
1 ½ tbsp sesame oil
2 tbsp minced garlic
2 tbsp minced ginger
1 cup diced portabella mushroom
1 ½ cup diced king oyster mushroom
pinch kosher salt
1 ½ cup kimchi*, roughly chopped, liquid reserved
¼ cup scallion, sliced, tops and bottoms
½ cup grated carrot
¾ cup small diced daikon radish
2 ½ cup wild rice, cooked, unsalted
1 ½ cup blanched broccoli, cut into bite-size pieces
¼ cup cashews, toasted, unsalted
1 tbsp sesame seeds
Directions
Add olive oil to a large sauté pan and heat on high. When oil is just below smoking, add mushrooms and sauté. Be careful not to crowd the pan so that the mushrooms sauté and do not just steam.
After mushrooms have released their natural water and start to brown, add the ginger, garlic and salt and sauté until they become aromatic. As soon as the garlic and ginger starts to become light brown and all the liquid has evaporated, add sesame oil and wild rice to the pan to reheat.
Remove from heat and quickly toss with remaining ingredients, including the reserved liquid from the kimchi.
Check seasoning and serve immediately.
*Use vegan kimchi to make this a vegan entrée.
Note: If preparing this in advance, prepare the following in batches and refrigerate: 1) Sautéed mushrooms with ginger and garlic, 2) Kimchi with scallion, carrot and daikon radish, 3) Blanched broccoli, 4) Wild rice. Add sesame seeds and toasted cashews when ready to serve. This can be reheated in a hot sauté pan or served cold.
Nutritional information per serving:
Calories: 365kcal
Fat: 20g
Saturated Fat: 3g
Cholesterol: 0mg
Fiber: 8g
Protein: 9g
Carbohydrates: 41g
Sodium: 490mg
Potassium: 680mg
---
April 20, 2018 by Allison Aaron, Sr. Culinary Nutritionist
Do you really know what's in your protein powder? Allison discusses a recent report that examined contamination in this dietary supplement and discusses whether protein powders are a necessary addition to our diets.
---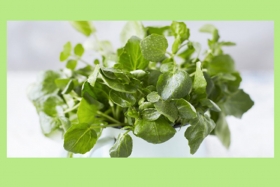 March 19, 2018 by Kat Villarino, Dietetic Intern
Dietetic Intern Kat Villarino covers why watercress is such a nutrient powerhouse and shares how you can incorporate more of it into your diet. Check out her infographic!
---