Nutrition 101
How a Young Professional (and Dietitian!) Navigates the Supermarket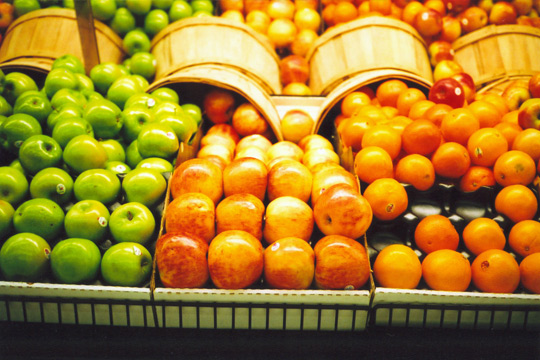 Find out how Jason Lau, R.D., gets his grocery shopping done quickly and healthfully.
Just like most other professionals working in the city, I don't have much time to dedicate to grocery shopping. As a registered dietitian, I try to cook at home a few times a week, so when it's time to grab my weekly produce (often during the supermarket rush hour after work) I tend to shop as quickly as possible. Here are some of my tips for how to navigate the supermarket smartly and save some time:
Follow the perimeter

When you first enter the supermarket, try to stick to the outer path and avoid the middle part of the store. Most of the fresh produce and chilled foods are typically located on the outer aisles. Moreover, you can find the resident butcher and bakery along the outermost route of the store to pick up your fresh meats and bread. On the contrary, the inner aisles are full of processed foods such as candies, chips or high-sodium sauces (learn how to quickly make your own simple marinara sauce). So make sure to fill up your cart mostly with produce from the outer aisles.
Shop the rainbow

Now that you know which aisles to try and stick to, you might ask what specific produce you should be putting into your cart. A simple rule is to include a variety of food items from all colors of the rainbow. Different colored fruits and vegetables provide different vitamins, minerals and antioxidants; by eating a colorful diet, you are already on your way to meet your micronutrients requirements. Also, stick with seasonal produce where possible. Produce typically contains more nutrients when in season. Fruits and vegetables like leeks, apples and Brussels sprouts are in season right now, so be sure to pick some up next time you're at the grocery store.
The food label is your best friend

The food label on each product does not just provide you with nutritional breakdown of the product itself (learn more about how to easily read food labels); it also shows you the ingredients of the product from the most abundant to the least. Typically, you should try to purchase products that contain 5 ingredients or less. Products with long lists of ingredients or unrecognizable terms are usually more processed and contain higher sodium. As a rule, the simpler the food is, the better it is for you.
Live smart and eat healthy!
Do you have any tips for navigating the supermarket quickly and healthfully? Let me know in the comments section below.
---
Recipes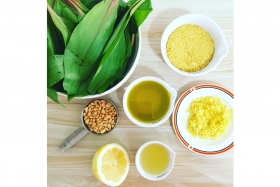 Recipes
May 20, 2018 by Jessica Lin, Dietetic Intern
Dietetic Intern Jessica Lin got creative with ramps, the hyper-seasonal sign of spring!
---
April 20, 2018 by Allison Aaron, Sr. Culinary Nutritionist
Do you really know what's in your protein powder? Allison discusses a recent report that examined contamination in this dietary supplement and discusses whether protein powders are a necessary addition to our diets.
---