Nutrition 101, Recipes
Homemade Apple Sauce: How to Make it and Why it's Good for You
Andrea Canada, R.D, suggests a surprisingly simple baking substitute for butter on National Apple Sauce Cake Day.
Apple sauce has long been touted as a healthy alternative for eggs, butter and sugar in baking as it can add both sweetness and moisture to your dessert without adding excess calories. Apples are a nutrient-dense (and vegan!) alternative that add their own distinctive flavor when incorporated into cookies, muffins and other baked goods.
In addition to taste, apples contain phytochemicals including polyphenols and antioxidants which have been linked to the possible prevention of chronic diseases like cancer, heart disease, diabetes and high blood pressure. Apple skins are particularly nutrient-dense and contain high amounts of fiber.
To make your own apple sauce, start with about 1lb of quartered, cored, good-quality cooking apples. Leaving the skin on, immerse them in a pot of around a ½ inch of simmering tap water on a medium-low heat. Cover and simmer for around 10 minutes before seasoning with cinnamon, nutmeg, ginger and cloves to taste.
You can then either mash the mixture for a chunky sauce or – if desired – purée for a smoother sauce.
Check out Senior Culinary Nutritionist Natalia Hancock's simple recipe for Apple-Pear sauce here.
Do you use apple sauce when baking? Let us know in the comments section below.
---
April 20, 2018 by Allison Aaron, Sr. Culinary Nutritionist
Do you really know what's in your protein powder? Allison discusses a recent report that examined contamination in this dietary supplement and discusses whether protein powders are a necessary addition to our diets.
---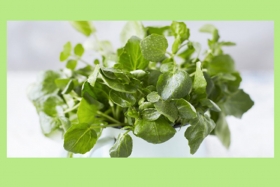 March 19, 2018 by Kat Villarino, Dietetic Intern
Dietetic Intern Kat Villarino covers why watercress is such a nutrient powerhouse and shares how you can incorporate more of it into your diet. Check out her infographic!
---