Recipes
Healing Chicken Soup Recipe
Culinary Nutritionist Natalia Hancock shares her "Healing Chicken Soup" recipe, a nutritious and delicious dish perfect for the cold winter months.
During my 10 years as a personal chef in NYC, my clients often came down with colds during the winter months and I would always make my "healing chicken soup." Over the years I've perfected my recipe, maximizing both flavor and healing power.
A proper stock is crucial when preparing my healing chicken soup. I always keep a jar of stock on hand in the freezer.
Healing Chicken Soup Recipe
Makes 10 2-cup servings
1 medium onion, chopped
1 shallot, chopped
6 cloves garlic, sliced thinly
1 tbsp ginger root, peeled and minced
4lb whole chicken, roasted*
2 tbsp reserved chicken fat or canola oil
4 medium carrots, peeled and chopped
4 medium celery stalks, chopped
1 large parsnip, peeled and chopped
1 small turnip (white and purple) peeled and chopped
6-8 mushrooms sliced
2 tsp salt
1 tsp black pepper
4 qts chicken stock
2 bay leaves
1 medium leek, chopped, soaked and drained
¼ tsp red pepper flakes
1 tbsp lemon juice
½ cup fresh parsley, chopped
4 scallions, sliced
*The chicken can be roasted a day or two ahead of time.
Directions

Preheat oven to 425 degrees and roast chicken for 55 minutes.
Once the chicken is done, remove it from the oven so that it can cool. Pull the meat from the bones, chop into bite-sized pieces and reserve.
Peel, chop and slice all of the vegetables for the soup. In a large stock pot, heat chicken fat (schmaltz) or oil over medium heat and add chopped onions just before the fat starts to smoke.
Sauté onions for a minute or two then add shallot, garlic and ginger. After a few more minutes of cooking, add the remaining vegetables except for the leek.
Add the salt and pepper and sweat for 8-10 minutes.
Add the chicken stock and the bay leaves. Increase the heat to medium-high and bring to a boil.
Once soup starts boiling reduce it to a simmer and add the leeks, red pepper flakes and chicken.
Simmer for 10 minutes or until vegetables have achieved desired tenderness.
Add lemon juice and adjust seasonings if necessary. Add parsley and scallions just before serving.
Nutritional information per 2 cup serving:

Calories: 159
Protein: 16g
Carbohydrates: 12g
Fat: 5g
Saturated Fat: 1.5g
Fiber: 3g
Sodium: 467mg
Potassium: 455mg
---
April 20, 2018 by Allison Aaron, Sr. Culinary Nutritionist
Do you really know what's in your protein powder? Allison discusses a recent report that examined contamination in this dietary supplement and discusses whether protein powders are a necessary addition to our diets.
---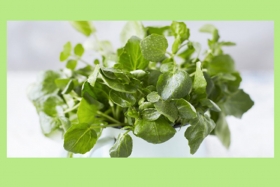 March 19, 2018 by Kat Villarino, Dietetic Intern
Dietetic Intern Kat Villarino covers why watercress is such a nutrient powerhouse and shares how you can incorporate more of it into your diet. Check out her infographic!
---