Nutrition 101
How to Roast a Chicken
Credit: Machine is Organic
Culinary Nutritionist Natalia Hancock takes us through the surprisingly simple process of roasting a whole chicken. Try it yourself today!
Roasting a whole chicken might seem like a very daunting task to those who have yet to try it. We've all seen many difficult and time-consuming steps involved from trussing to herbed butter under the skin, from brining and stuffing, to removing the package of organs. And with the looming threat of salmonella poisoning, it's no wonder why many shy away from roasting chicken.
Fresh out of culinary school, I took the time for all the aforementioned steps when roasting a chicken and the result was a delicious roasted chicken. Fast forward 10 years, and I have learned that I can skip all the time-consuming preparations and still end up with an equally delicious roasted chicken.
If you have the time or desire to brine, truss, or stuff your chicken, please do. But if you are like many who don't have the time, here is a quick and dirty way to roast a chicken:
1. Start with a chicken that has a natural diet and lifestyle (meaning a real farm chicken). Hormone and antibiotic-free organic chickens will cost extra, but you can make several meals out of a chicken, along with soup and stock.
2. Preheat the oven to 375 degrees.
3. Make sure your chicken is completely thawed and all organs have been removed from the cavity.
4. Place the chicken in a baking dish (metal or glass) and season the skin with salt and pepper. It will take an hour and ten minutes for a 4lb chicken and an hour and a half for a 6lb chicken. You can also cook the chicken faster on 425 degrees about 55 minutes for 4lbs and an hour and 10 minutes for 6lb.
5. Check that the juices run clear and that the thermometer reads 165.
That's it!
The beauty of roasting a whole chicken is that it provides several meals, can make leftovers, and allows for further use of both the bones and drippings. For instance, you can refrigerate the carcass for stock. Don't forget to pour the drippings into an airtight container and refrigerate. You can save the chicken fat (called schmaltz) which will appear white/yellow and separate from the chicken juices and rise to the top. I use this in place of oil when sautéing vegetables for soups and stews. Poultry fat is predominantly unsaturated so it is a heart-healthy fat and a flavorful and sustainable alternative. You can also make use of the chicken juices, which will become gelatinous due to the collagen and minerals.This can be added to home-made chicken stock.
While the chicken is in the oven you'll have time to prepare the rest of dinner and even set the table. And undoubtedly, your family will rouse as the house fills with the aroma of the roasting chicken. In a sustainable effort to utilize your entire chicken, make sure to save the bones and drippings and make your own stock!
Do you have any tips on roasting a whole chicken? Let us know in the comments below!
---
April 20, 2018 by Allison Aaron, Sr. Culinary Nutritionist
Do you really know what's in your protein powder? Allison discusses a recent report that examined contamination in this dietary supplement and discusses whether protein powders are a necessary addition to our diets.
---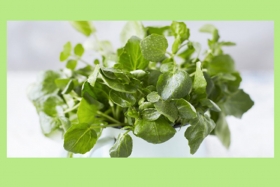 March 19, 2018 by Kat Villarino, Dietetic Intern
Dietetic Intern Kat Villarino covers why watercress is such a nutrient powerhouse and shares how you can incorporate more of it into your diet. Check out her infographic!
---