Interviews
Dietitian Spotlight: Snap Kitchen
At SPE, we're always excited when we get to work with other registered dietitians working in the food service industry. Andrea Hinsdale and Claire Siegel are dietitian rockstars, working closely with Snap Kitchen's culinary team to ensure the operation keeps dishing out the healthy, sustainable and delicious food that keeps customers coming back. We had the opportunity to pick their brains about working at Snap Kitchen, SPE and Texas BBQ.
Andrea Hinsdale, RD
Andrea Hinsdale's food philosophy can be summed up in three sentences: "Eat real food. Enjoy moderate portion sizes. Be active." Andrea believes that these basic concepts are the foundation to proper nutrition and healthy living. As the Chief Registered Dietitian at Snap Kitchen, she is determined to do her part in sharing this knowledge to help create a healthier population.
Andrea graduated from the University of Houston with a bachelor's degree in nutrition, and has worked in various medical centers educating patients on the importance of a healthy lifestyle. Utilizing her nutritional expertise, as well as her first degree in journalism from the University of Texas at Austin, Andrea has seamlessly transitioned from the world of journalism to the restaurant industry.
When not snapping clients into a healthier lifestyle, she loves to garden, explore Austin, and try out new recipes on her most beloved audience, husband Josh and two young children.
What's the best part about your job? The best part about being a dietitian at Snap Kitchen is that I'm not limited to suggesting healthy habits, we're helping customers actually act on healthy lifestyle changes. Snap is helping people solve a problem by removing barriers to healthy food choices.
What does "Health through Food" mean to you? "Health Through Food" means making choices that make you feel good. Snap believes you shouldn't have to compromise to eat food that's full of flavor and nutrition, but that still works with your busy schedule.
Since BBQ is a staple down in Texas, what are your personal RD tips for making BBQ healthier? Skip the loaf of white bread, Mayo-heavy salads, and extra barbecue sauce, and attempt to stop eating all of that smoky, savory deliciousness before you're full.
Claire Siegel, RD
Claire is Snap Kitchen's Houston-area registered dietitian. After completing her undergraduate degrees in Nutrition and Plan II Liberal Arts from the University of Texas, she completed her dietetic internship through the University's Coordinated Program in Dietetics. Claire's back in her hometown now, helping to grow and share Snap Kitchen! Her food philosophy focuses on balancing whole foods and her penchant for red wine and dark chocolate.
When she's not working, Claire is into cooking, live comedy, and getting crafty. She writes the food blog The Petite Professional, where she shares recipes, tips, and tricks to leading a healthy and active lifestyle as a busy young professional!
What is your favorite go-to snack? If I'm at Snap Kitchen, then I'm likely snacking on the Curried Chicken Salad. At home, I love a cup of Greek yogurt with blueberries, almond butter and cinnamon.
What does "Health Through Food" mean to you? Health through food means doing more with your food than just eating it. It's a tool for nourishment, health, and healing. Bonus points if it can be delicious to boot.
And finally, how do you make BBQ healthier? Opt for lean cuts of meat and/or remove some of the excess fat from things like brisket. Get sauce on the side, always. Toss half of the bun on your BBQ sandwich. Go for a green salad over coleslaw or potato salad. Or treat a BBQ meal as your weekly indulgence and ensure that you make good choices the rest of the week!
Thanks Andrea and Claire, and keep up all the good work at Snap Kitchen!
---
April 20, 2018 by Allison Aaron, Sr. Culinary Nutritionist
Do you really know what's in your protein powder? Allison discusses a recent report that examined contamination in this dietary supplement and discusses whether protein powders are a necessary addition to our diets.
---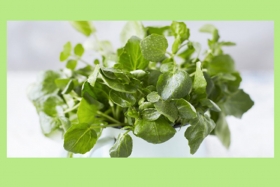 March 19, 2018 by Kat Villarino, Dietetic Intern
Dietetic Intern Kat Villarino covers why watercress is such a nutrient powerhouse and shares how you can incorporate more of it into your diet. Check out her infographic!
---