Recipes
Chocolate Beet Tea Loaf Recipe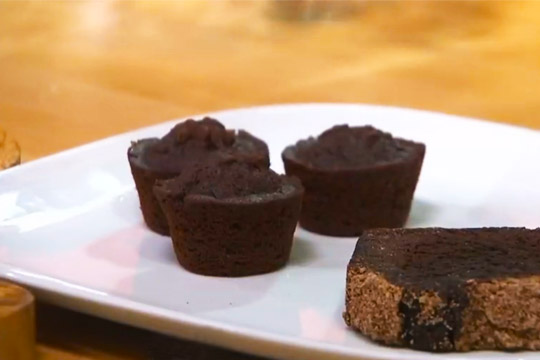 These delicious little chocolate treats are great for guests and contain less than 2g of saturated fat each.
Makes 12 1.5 oz cakes

¼ cup all-purpose flour
¼ cup whole wheat flour
2 oz unsweetened cocoa powder
½ tsp baking powder
¼ tsp baking soda
¼ tsp salt
½ tsp cinnamon
1 tsp vanilla extract
1 large egg, beaten
⅓ cup canola oil
3 tbsp sugar
3 tbsp brown sugar
¾ cup beet, grated
4 tsp orange peel, grated
1 oz orange juice, fresh
2 oz mini chocolate chips, semi-sweet (plus 1-2 tbsp for garnish)
Directions

Preheat oven to 325 degrees.
Combine the first 7 dry ingredients together in a medium bowl.
Next combine the wet ingredients and sugar in a separate large bowl.
Combine the dry ingredients into wet ingredients. Mix until totally combined, but avoid over mixing.
Pour into mini-muffin molds ⅔ the way up, which have been sprayed with non-stick cooking spray.
Garnish each with a few mini chocolate chips and bake at 325 degrees for 15-18 min, or when inserted toothpick is clean when removed.
Nutritional information per cup:

Total Calories: 139kcal
Protein: 2.4g
Carbohydrates: 16g
Fiber: 2.6g
Total Fat: 8g
Saturated Fat: 1.7g
Sodium: 104mg
Potassium: 144mg
---
April 20, 2018 by Allison Aaron, Sr. Culinary Nutritionist
Do you really know what's in your protein powder? Allison discusses a recent report that examined contamination in this dietary supplement and discusses whether protein powders are a necessary addition to our diets.
---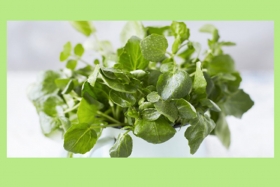 March 19, 2018 by Kat Villarino, Dietetic Intern
Dietetic Intern Kat Villarino covers why watercress is such a nutrient powerhouse and shares how you can incorporate more of it into your diet. Check out her infographic!
---