Recipes
Chilled Pea Soup with Crab Meat and Citrus Yogurt Recipe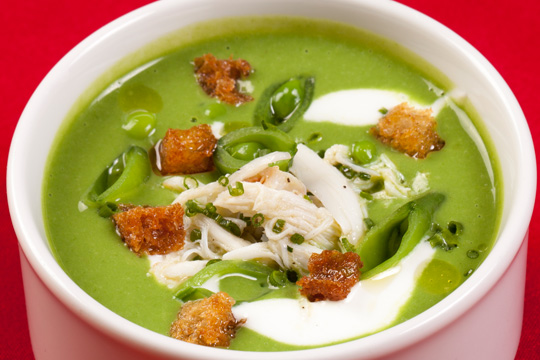 This delicious, healthy pea soup recipe is perfect for the spring weather and contains just 1 gram of saturated fat.
While you can find frozen peas to cook with year-round, the sweetness of fresh, seasonal peas from the market is hard to match. Nutritionally, these little green legumes are packed with folate, vitamin C, B vitamins and fiber. This refreshing pea soup recipe is sure to impress your guests with its vibrant, green color and simple yet beautiful presentation.
Makes 6 servings

Soup:
1 lb fresh English peas (frozen peas can be substituted)
2 tsp olive oil
2 shallots, chopped
2 cloves garlic, minced
2 cups stock
Croutons (optional)
Salt and pepper to taste
Yogurt drizzle:
½ cup plain yogurt
2 tbsp fresh mint, chopped fine
Zest of 1 lemon
Juice of ½ lemon
Salt and pepper to taste
Crab:
6oz lump crab meat, drained and patted dry
Juice of ½ lemon
Chives, chopped
1 cup pea shoots (for garnish)
Salt and pepper to taste
Directions

Sauté chopped shallots and garlic in olive oil in a large pot. Add the stock and bring to a boil.
Add peas to the stock and simmer for 5-7 minutes.
While soup is simmering, mix yogurt, chopped mint, lemon juice and lemon zest in bowl. Add salt and pepper to taste, then pour into squirt bottle and chill.
In a separate bowl, mix the crab meat, lemon juice, chives and olive oil and season with salt and pepper. Set aside and chill in the refrigerator.
Once soup is done simmering, purée to desired consistency, season with salt and pepper to taste and chill.
Once chilled to desired temperature, add the crab to your soup and garnish with the yogurt drizzle and croutons (optional).
Nutritional information per serving:

Calories: 125
Protein: 9g
Carbohydrates: 16g
Fat: 3g
Saturated Fat: 1g
Sodium: 286mg
---
April 20, 2018 by Allison Aaron, Sr. Culinary Nutritionist
Do you really know what's in your protein powder? Allison discusses a recent report that examined contamination in this dietary supplement and discusses whether protein powders are a necessary addition to our diets.
---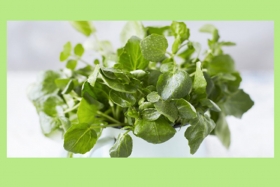 March 19, 2018 by Kat Villarino, Dietetic Intern
Dietetic Intern Kat Villarino covers why watercress is such a nutrient powerhouse and shares how you can incorporate more of it into your diet. Check out her infographic!
---