News Commentary
Chefs and Dietitians Unite to Rid the World of Boring Salads
Calorie counts. No more trans-fats. Banning sodas. Special diets, like gluten-free. The health revolution is in high gear, but dining out still challenges a healthy lifestyle.
More consumers are demanding healthy options

It was a mere few years ago that "the healthy stuff" accounted for only a small proportion of revenue at most chains. In today's world, restaurants are faced with an ever-growing demand for healthy dining options. Operators who would never have considered nutrition must now confront the health revolution inevitably asserting itself from coast to coast. Many do not have the tools to address this new demand.
Others acknowledge the need and make a half-hearted attempt to show they are not a half-step behind, but do so with menu items that are more apt to garner publicity than high marks from nutrition experts.
The International Food Information Council Foundation's 2012 Food & Health Survey found that taste remains the number 1 influence on food choices – followed by price, healthfulness and convenience. There was a time when consumers were resigned to the fact that when eating out, they would have to sacrifice flavorful food if they wanted to eat healthy. The emerging new standard is that it's no longer about offering healthy food in the guise of a vegetarian plate or a boring salad, but rather helping diners identify dishes that are both nutritious AND delicious.
SPE Certified brings together chefs and dietitians to enhance the nutritional quality of meals without comprising on taste. The iconic SPE seal represents a new and trusted standard in healthy dining, allowing consumers to indulge without sacrifice. In essence, SPE Certified ensures that every vetted dish you serve is healthy, sustainable and most of all, delicious.
SPE Certified is the first of its kind, a revolutionary new brand providing a universal, trusted standard for food -- similar to what LEED® is to buildings and the Good Housekeeping Seal of Approval® is to household products.
Related: What is SPE?
Healthy food need not be boring

SPE's chefs and dietitians develop locally-sourced, seasonal dishes that provide lasting satiety from grains, fruits and vegetables, quality protein and healthy fats – without ever compromising taste.
Blue-chip brands such as Celebrity Cruises, UMass Amherst, UC Davis, Hotel Plaza-Athénée NY, The Wit Hotel (Chicago), Lark Creek Restaurant Group (CA) and Michelin-starred Aureole, Danji and Seasonal restaurants have jumped on the "health bandwagon" and have become/are becoming SPE-certified.
Why customers respond to SPE

The latest health, or rather un-health, numbers are staggering: in 2030, 42% of the US population will be obese, and it is getting worse every year. Increasing numbers of Americans are suffering from diet-related diseases such as diabetes, heart disease and cancer – all contributing to skyrocketing health care costs. SPE was created with a real desire not only to affect positive change, but also to reach as many men, women and children as possible.
When customers see the distinctive SPE logo (dubbed a "squiggly, red insignia" by The New York Times), they will know those dishes have been properly sourced, are nutritionally balanced and taste great.
Recently, students at a leading university reported a 21% increase in satisfaction with taste, after SPE-certified meals became available in dining halls. See the infographic here.
Do you find it difficult to indulge while eating healthy? Share your experiences in the comments section below:
---
April 20, 2018 by Allison Aaron, Sr. Culinary Nutritionist
Do you really know what's in your protein powder? Allison discusses a recent report that examined contamination in this dietary supplement and discusses whether protein powders are a necessary addition to our diets.
---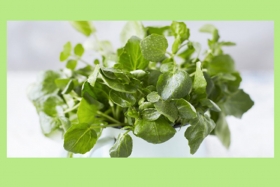 March 19, 2018 by Kat Villarino, Dietetic Intern
Dietetic Intern Kat Villarino covers why watercress is such a nutrient powerhouse and shares how you can incorporate more of it into your diet. Check out her infographic!
---