News Commentary, Nutrition 101
Can a Low Sodium Intake be Harmful?
Senior Culinary Nutritionist Andrea Canada comments on a recent report from the Institute of Medicine concerning low sodium intake.
The Institute of Medicine released a report this week examining the effect of low sodium diets on the U.S. population. I've written a few times previously about the risks of a high-sodium diet, but research is also being carried out to determine how consuming too little sodium can affect the human body.
Currently, the USDA's Dietary Guidelines recommend 2,300mg of sodium per day for the general population. However, the Dietary Guidelines recommend only 1,500mg of sodium for at risk populations including people with high blood pressure (hypertension), diabetes, kidney disease or congestive heart failure, anyone 51 or older and African Americans. This far more restrictive recommendation sparked controversy, prompting the IOM to evaluate the most recent research.
So what were the report's findings? In examining studies of the general population, the report concluded the following:
While there is significant variability in the studies and outcomes, in general, higher sodium intakes are related to higher risk for cardiovascular disease.
There is not enough evidence to conclude that there are health benefits from a sodium intake below 2,300mg.
The report's more controversial conclusions are for those subgroups mentioned above:
Low sodium intake (below 1,840mg/day) in congestive heart failure patients may be associated with worse health outcomes and more studies are needed.
The evidence to recommend 1,500mg of sodium or less for African Americans, people 51 or over, and people with diabetes, heart disease and kidney disease is too limited.
Consensus scientific evidence should be required for any of the USDA's dietary recommendations, especially as these are the requirements that publicly funded programs such as senior centers are challenged to adhere to. However, given that most Americans consume well over the 2,300mg recommendation (which the IOM conclusions supported), it doesn't seem like the country is in danger of too little sodium. So while industry groups are touting the report as vindication, public health groups are rightfully concerned that the coverage surrounding it confuses their message.
Do you think the messages surrounding sodium intake are confusing? Let us know your thoughts in the comments section below.
---
April 20, 2018 by Allison Aaron, Sr. Culinary Nutritionist
Do you really know what's in your protein powder? Allison discusses a recent report that examined contamination in this dietary supplement and discusses whether protein powders are a necessary addition to our diets.
---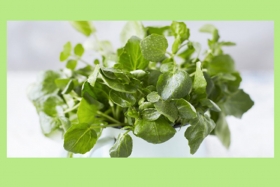 March 19, 2018 by Kat Villarino, Dietetic Intern
Dietetic Intern Kat Villarino covers why watercress is such a nutrient powerhouse and shares how you can incorporate more of it into your diet. Check out her infographic!
---