Nutrition 101, Recipes
Burger Toppings: Building a Healthier Burger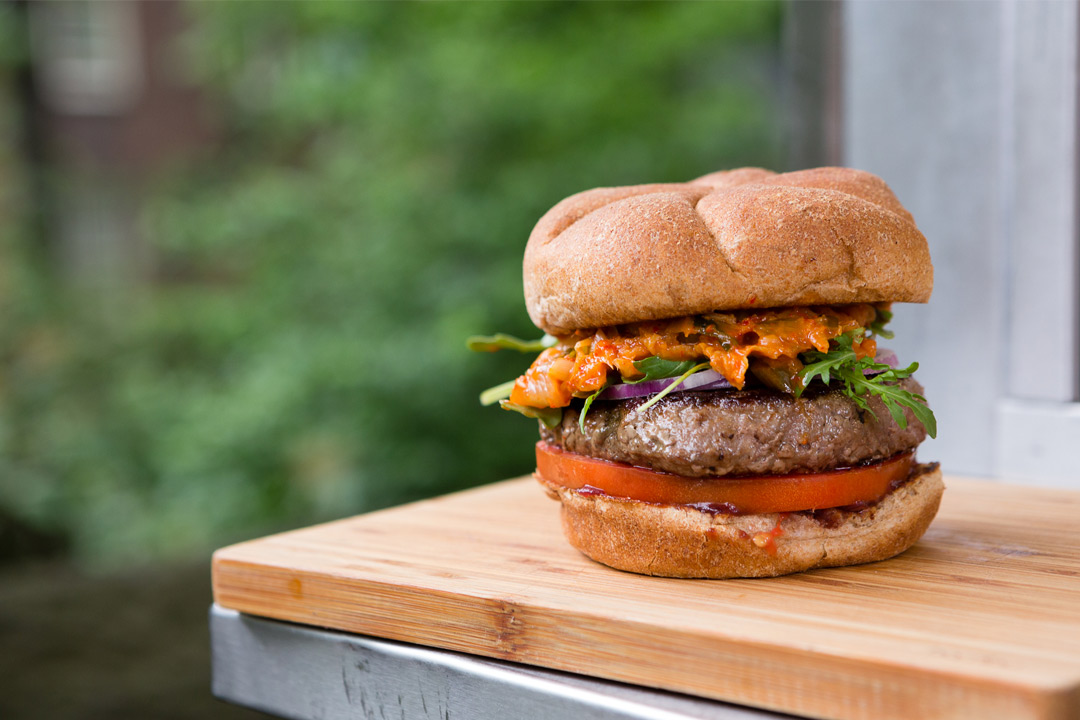 R. D. Abbie Gellman spices up your summer barbecue with some fresh ideas for healthy burger toppings.
As temperatures rise, many people move their cooking outdoors to the grill. At SPE Certified, we like a good burger, but prefer to avoid flame-grilling meat. This is because charred animal fat can be carcinogenic; as such, we choose to cook our burgers à la plancha or in a grill pan. Flat top griddles can be placed directly on a grill and are a great way to cook without the added hazards of flame-grilling meat.
And instead of the same old condiments and garnishes, why not try something new to jazz up that grilled chicken breast or burger? Here are some of our favorite ideas for delicious, healthy burger toppings:
Green chiles
Take some jalapeños and/or poblanos and either (1) chop and sauté them in a little olive oil, or (2) roast them whole over a gas burner, wrap in plastic wrap till cool, peel off charred skin and chop.
Roasted tomatoes (4 servings):
Start with 1 pint grape tomatoes (halved), 1 teaspoon olive oil, 1 pinch salt, 1 pinch sugar, and ½ teaspoon thyme. Toss the halved tomatoes in olive oil, salt, sugar and thyme, and then roast on a raised rack, skin side down, for 45 to 60 minutes at 350 degrees F.
Infused yogurt:
Take some non-fat Greek yogurt and mix in wasabi powder, horseradish or curry powder.
And who can have a proper summer barbecue without good coleslaw? Below is our recipe for a delicious and healthy summer slaw that goes well as both a side dish and a burger topping.
Healthy Coleslaw Recipe:
Makes 6 servings
Ingredients:

1 cup carrots, grated
1 ½ cups green cabbage, sliced
1 cup red cabbage, sliced
1 pinch salt
1 tbsp sugar
1 tbsp red wine vinegar
1 oz non-fat Greek yogurt
1 tbsp mayonnaise
Directions:

Combine carrots and cabbage in large bowl.
Combine salt, sugar, vinegar, yogurt, and mayonnaise in small bowl. Whisk till smooth and mix into large bowl. Refrigerate.
What are some of your favorite healthy burger toppings? Leave your tips in the comments below.
---
April 20, 2018 by Allison Aaron, Sr. Culinary Nutritionist
Do you really know what's in your protein powder? Allison discusses a recent report that examined contamination in this dietary supplement and discusses whether protein powders are a necessary addition to our diets.
---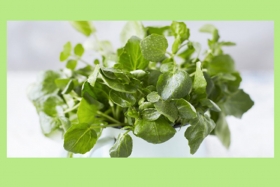 March 19, 2018 by Kat Villarino, Dietetic Intern
Dietetic Intern Kat Villarino covers why watercress is such a nutrient powerhouse and shares how you can incorporate more of it into your diet. Check out her infographic!
---