Nutrition 101
7 Tips for Following a Healthy Diet While Traveling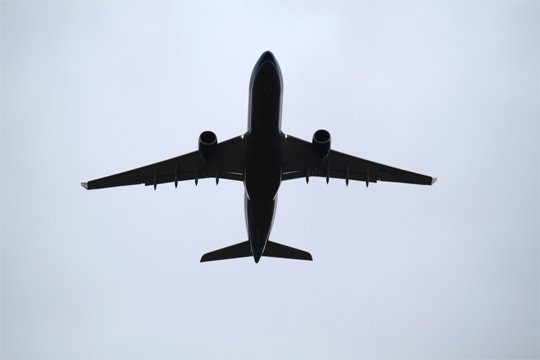 Culinary Nutritionist Andrea Canada shares her tips on how to stay healthy on the road.
Thanksgiving is one of the busiest travel weeks of the year. Generally the foods available to travelers in airports, train stations and rest stops tend to be high in sodium or added fats in order to extend their shelf life while also making them palatable. Finding a place to eat that serves healthy food options can be challenging, but it is always possible to adapt a meal to be healthier. For those of you preparing for a road trip or flight for the holiday, here are some tips to help you maintain healthy eating habits on the road:
1. Eat at a foodservice establishment that will give you the most control over what goes into your meal, such as a sandwich shop; take the opportunity to load up on produce, which will both keep you sated while you travel and give you a boost of protective nutrients.
2. Choose minimally processed foods made from whole grains and lean proteins such as a chicken breast sandwich on whole wheat bread. Pass on junk-food sides like cookies and potato chips. In their place, pick up a piece of fresh fruit (or two!).
3. Try to avoid foods with a lot of salt, fat and added sugars such as white breads, fatty cuts of meat, fried foods and creamy dressings. Request that foods such as salads and wraps have their dressings on the side so you can control the amount you eat.
4. Snack healthy. Pick up trail mix over fiber or energy bars, and dark chocolate-covered nuts over candy. Read your labels to get an idea of what's in the food you're eating!
5. Drink water, low-sodium tomato juice and unsweetened tea and coffee instead of soda and pre-packaged coffee drinks. Keep in mind that caffeinated beverages have a diuretic effect which can further dehydrate you while traveling.
6. Choose the option that offers a balanced mix of items (e.g., fruit, nuts, hummus) if on a plane that offers snacks and snack boxes for sale. Familiarize yourself with the airline's meal options as many airlines have special meals available for diabetics, vegetarians and gluten-sensitive individuals. But don't forget to request these meals in advance!
7. If possible, stock up on healthy snacks for your car or plane ride and bring an insulated lunchbox with you to store perishable snacks such as low-fat Greek yogurt, fresh-cut veggies, string cheese and hummus. If you're limited on space, pack some dried fruits and nuts (like our spiced nut mix!). Always remember to bring plenty of water and stay hydrated!
Do you have any handy travel tips of your own? Feel free to share them in the comments below.
---
Recipes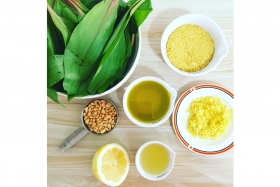 Recipes
May 20, 2018 by Jessica Lin, Dietetic Intern
Dietetic Intern Jessica Lin got creative with ramps, the hyper-seasonal sign of spring!
---
April 20, 2018 by Allison Aaron, Sr. Culinary Nutritionist
Do you really know what's in your protein powder? Allison discusses a recent report that examined contamination in this dietary supplement and discusses whether protein powders are a necessary addition to our diets.
---