Recipes
Holiday Spiced Nuts with Dried Fruit Recipe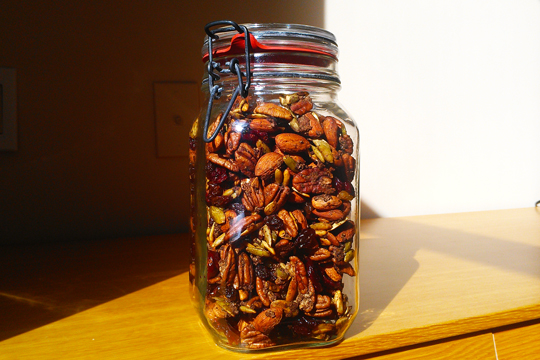 Try this delicious and nutritious holiday snack to whet the appetites of your guests before the Thanksgiving feast!
Thanksgiving is only a week away and many of us have already begun to prepare for next Thursday's feast. Given all the effort that goes into cooking and serving a Thanksgiving meal, it's wise to minimize appetizers and hors d'oeuvres so that we can focus on the main event itself – whether it's roast turkey or a tasty veggie alternative.
To follow is a tasty seasonal snack to put out prior to Thanksgiving dinner that can be made in advance. It's a perfect way to whet the appetite of your guests -- without filling them up!
Holiday Spiced Nuts with Dried Fruit Recipe
Makes 28 servings
3 egg whites
1 orange, zest
1 tsp Kosher salt
1 Tbsp raw sugar
3 Tbsp Chinese 5 spice powder ground
3 Tbsp Chia seeds
2 cups almonds, with skin, unsalted
2 cups pecans, unsalted
1 cup pumpkin seeds (pepitas) raw, unsalted
1 cup dried cranberries
1 cup golden raisins
1 cup black raisins
Directions

Pre-heat oven to 325 degrees.
Beat egg whites until they form soft peaks.
Fold in salt, sugar, zest, and Chia seeds until evenly distributed.
Add the nuts and pumpkin seeds and coat evenly.

Spread nuts evenly over baking sheet sprayed with Pam/vegetable oil.
Bake for 20 minutes, turning nuts half way through baking process.
Nutritional information per 1.5 oz serving:

Calories: 190Kcal
Protein: 5g
Carbohydrates: 17g
Fat: 13g
Saturated Fat: 1.5g
Fiber: 4g
Sodium: 50mg
Recipe by Executive Chef Anthony Moraes and Culinary Nutritionist Natalia Hancock
---
April 20, 2018 by Allison Aaron, Sr. Culinary Nutritionist
Do you really know what's in your protein powder? Allison discusses a recent report that examined contamination in this dietary supplement and discusses whether protein powders are a necessary addition to our diets.
---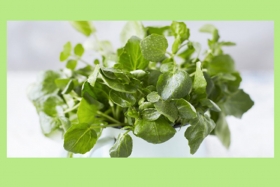 March 19, 2018 by Kat Villarino, Dietetic Intern
Dietetic Intern Kat Villarino covers why watercress is such a nutrient powerhouse and shares how you can incorporate more of it into your diet. Check out her infographic!
---