Nutrition 101
3 Recipes for a Healthy Thanksgiving
Culinary Nutritionist Natalia Hancock gives 3 traditional Thanksgiving recipes a healthy makeover.
Thanksgiving is the one holiday where it's OK to indulge. With all of the traditional heavy fare, no wonder we often need an afternoon nap! Here are 3 recipes for Thanksgiving dinner that are much healthier versions than the traditional versions, but just as delicious.
Roasted Sweet Potatoes
Serves 8
4 large sweet potatoes (2lbs), peeled and chopped
2 tbsp olive oil
1 tsp cinnamon
¼ tsp ground nutmeg
½ tsp salt
½ tsp black pepper
2 tsp brown sugar
Directions

Preheat oven to 375 degrees and place large baking sheet inside.
Steam sweet potatoes in large pot filled with 1 inch of water and a steam basket (or other preferred steaming method) for 5 minutes to start cooking process and remove from heat.
In a bowl, toss with olive oil, cinnamon, nutmeg, salt and pepper and spread sweet potatoes on the hot baking sheet and place back in the oven.
Roast for 20-25 minutes or until tender. Toss with brown sugar and serve.
Nutritional information per ¾ cup serving:

Calories: 131
Fat: 3g
Saturated Fat: 0g
Carbs: 24g
Fiber: 4g
Protein: 2g
Sodium: 210g
Vitamin A 321%
Compared to Traditional Sweet Potato Casserole with Marshmallows (¾ cup):
Calories: 421
Fat: 18g
Saturated Fat: 7g
Carbs: 61g
Fiber: 4g
Protein: 6g
Sodium: 360 mg
Vitamin A 278%
Cranberry Orange Relish
20 servings
12oz cranberries, fresh
1 Navel orange, quartered, seeds removed, with skin
¼ cup sugar
Directions

Wash orange and cranberries, then quarter the orange and remove seeds.
Pulse in a food processor until mostly chopped but small pieces of cranberry and orange are still identifiable.
Remove from food processor and add sugar. Refrigerate up to 3 days. Makes 20, 1oz/2 Tbsp servings
Nutritional information per 2 tbsp serving:

Calories: 23
Carbs: 6g
Fiber: 1g
Vitamin C 13%
Compared to Traditional Cranberry Sauce (canned, 2 tbsp):
Calories: 95
Carbs: 24g
Fiber: 1g
Vitamin C 2%
Baked Apples
Serves 6
6 medium apples washed and cored
3 tbsp chopped walnuts
3 tbsp raisins
3 tbsp dried cranberries
3 tbsp oats
1½ tsp cinnamon
1 tbsp brown sugar
1 tbsp honey
3/4 cup water
Directions

Preheat the oven to 350 degrees. Wash and core the apples.
Combine nuts, raisins, cranberries, oats and cinnamon in a small bowl.
Place apples in a 9x13" baking dish, and fill the cored apples with fruit and nut mixture.
Pour the water in the dish and drizzle the honey over the apples.
Cover with foil and bake 20-30 minutes or until apples are tender.
Nutritional information per apple:

Calories: 173
Fat: 3g
Saturated Fat: 0g
Carbs: 39g
Sodium: 20mg
Fiber: 6g
Protein 2g
Vitamin C 14%
Compared to Traditional Apple Pie (per slice):
Calories: 512
Fat: 27g
Carbs: 68g
Fiber: 3g
Sodium: 341 mg
Protein: 3g
---
April 20, 2018 by Allison Aaron, Sr. Culinary Nutritionist
Do you really know what's in your protein powder? Allison discusses a recent report that examined contamination in this dietary supplement and discusses whether protein powders are a necessary addition to our diets.
---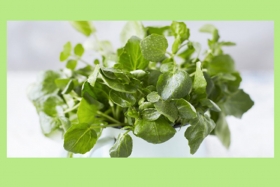 March 19, 2018 by Kat Villarino, Dietetic Intern
Dietetic Intern Kat Villarino covers why watercress is such a nutrient powerhouse and shares how you can incorporate more of it into your diet. Check out her infographic!
---