Recipes
Winter Citrus Salad Recipe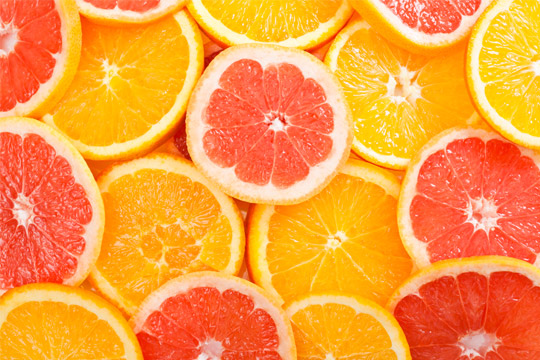 This delicious salad is packed with Vitamin C, which may help fight off infections during these cold winter months!
Makes 4 servings
1 navel orange, segmented
1 pink grapefruit, segmented
1 white grapefruit, segmented
1 small head bibb lettuce, chopped
2 endives, chopped
1 small head raddichio, chopped
1 ripe avocado, sliced
2 tbsp extra virgin olive oil
1 tbsp red wine vinegar
¼ tsp salt
¼ cup toasted pepitas (pumpkin seeds)
2 tbsp fresh chives, chopped
pepper to taste
Directions

To segment the orange and grapefruits, run a sharp knife just under the peel so that the peel and white pith is removed. Then slice along either side of the citrus membrane resulting in a cleaned citrus segment.
Put segments of the orange and grapefruit in a strainer over a bowl (about ¼ to ½ cup). The strained citrus juice will be used in the vinaigrette.
Wash and dry the lettuce, endive and radicchio leaves and place them into a large bowl.
Slice the avocado and add it to the lettuces along with the remaining citrus segments.
Add the olive oil, vinegar, salt and pepper to taste to ¼ cup reserved citrus juice and whisk well.
Pour vinaigrette over lettuce, citrus and avocado and toss well.
Garnish with toasted pepitas and chives.
Nutritional information per serving:

Calories: 240kcal
Fat: 16g
Saturated Fat: 2.5g
Carbs: 26g
Sodium: 180mg
Fiber: 8g
Protein 4g
Potassium: 830mg
Vitamin A: 45%DV
Vitamin C: 130%DV
---
April 20, 2018 by Allison Aaron, Sr. Culinary Nutritionist
Do you really know what's in your protein powder? Allison discusses a recent report that examined contamination in this dietary supplement and discusses whether protein powders are a necessary addition to our diets.
---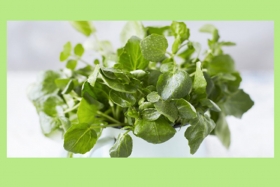 March 19, 2018 by Kat Villarino, Dietetic Intern
Dietetic Intern Kat Villarino covers why watercress is such a nutrient powerhouse and shares how you can incorporate more of it into your diet. Check out her infographic!
---