Nutrition 101
Q: What are the phytoestrogens in soy and flax seeds? Are they good for me?
Culinary Nutritionist Andrea Canada defines phytoestrogens, identifies some common sources and comments on their role in the female diet.
What are phytoestrogens?
Phytoestrogens are hormone-like compounds found in plants that can be consumed rather than generated by the human body. They occur in three types of flavonoids (plant-based compounds): isoflavones, lignans and coumestans. Found in a variety of plant-based foods such as soy, flax seeds, alfalfa and clover, these flavonoids are currently being studied to better understand the effect of phytoestrogens in the body from both dietary and supplement sources.
Can phytoestrogens help during menopause?
Research has established a relationship between the use of hormone replacement therapy (HRT) and higher rates of breast cancer in menopausal women. Because of this correlation, the popularity of phytoestrogens has increased dramatically among women looking for a natural alternative to estrogen. Phytoestrogens are also being researched in relation to cardiovascular function, lipid metabolism, Alzheimer's disease and bone health.
Studies regarding phytoestrogens and bone density are mixed. Some studies have indicated that a soy-rich diet, while having no impact on the bone density in pre-menopausal women, significantly increases bone density post-menopause. Research has suggested that rates of osteoporosis and hip fractures are lower in Asian countries with high consumption of isoflavone-containing soy products.(i) Other studies have found there to be no correlation at all between phytoestrogens and bone health, while others have produced inconclusive results due to confounding factors such as the age and life stage of the subjects.(ii)
Research has also investigated the impact of phytoestrogens on breast cancer and tumor growth. Studies have shown that cultures with high dietary soy intake -- such as Japan -- experience lower breast cancer rates than Western cultures. Therefore, some believe that soy and phytoestrogens are natural breast cancer inhibitors in pre-menopausal women. However, one study has shown that soy supplementation actually stimulated breast tissue growth in benign and malignant breast tumor patients.(iii) Since the research regarding soy and phytoestrogens has not been conclusive, breast cancer patients or survivors are advised to refrain from phytoestrogen consumption.
In general, whole foods containing phytoestrogens such as soy, flax and clover pose no known risk or cause for concern in the average woman. On the contrary, soy is a plant-based protein source and flax contains heart-healthy omega-3 fatty acids. Because of the conflicting information regarding phytoestrogen, I recommend that you err on the side of caution and talk with your healthcare provider before taking any supplements.
(i) Tham DM, Gardner CD, Haskell WL. Clinical review 97: Potential health benefits of dietary phytoestrogens: A review of the clinical, epidemiological, and mechanistic evidence. J Clin Endocrinol Metab. 1998;83:2223-2235.

(ii) Alexandersen, P. Toussaint A, Christiansen C, et al. Ipriflavone in the treatment of postmenopausal osteoporosis : a randomized controlled trial. JAMA. 2001; 285: 1482-1488.

(iii) McMichael-Phillips DF, Harding C, Morton M, Roberts SA, Howell A, Potten CS, Bundred NJ.Effects of soy-protein supplementation on epithelial proliferation in the histologically normal human breast. Am J Clin Nutr. 1998: 68: 1431S-6S.
---
April 20, 2018 by Allison Aaron, Sr. Culinary Nutritionist
Do you really know what's in your protein powder? Allison discusses a recent report that examined contamination in this dietary supplement and discusses whether protein powders are a necessary addition to our diets.
---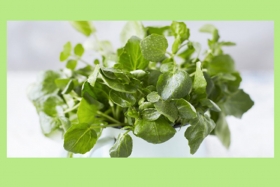 March 19, 2018 by Kat Villarino, Dietetic Intern
Dietetic Intern Kat Villarino covers why watercress is such a nutrient powerhouse and shares how you can incorporate more of it into your diet. Check out her infographic!
---