Interviews
VIDEO: What's SPE Certified All About? Dr. Pam Peeke and Culinary Nutritionist Andrea Canada Discuss
Dr Pamela Peeke and SPE Certified Culinary Nutritionist Andrea Canada sit down to talk about SPE Certified's unique certification program, as well as a philosophy of sourcing, preparing and enhancing food.
---
April 20, 2018 by Allison Aaron, Sr. Culinary Nutritionist
Do you really know what's in your protein powder? Allison discusses a recent report that examined contamination in this dietary supplement and discusses whether protein powders are a necessary addition to our diets.
---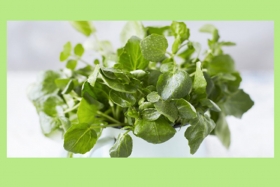 March 19, 2018 by Kat Villarino, Dietetic Intern
Dietetic Intern Kat Villarino covers why watercress is such a nutrient powerhouse and shares how you can incorporate more of it into your diet. Check out her infographic!
---