Behind the Scenes, Interviews
VIDEO: How SPE Certified Principles are Applied at Michelin-Starred Rouge Tomate
Rouge Tomate Executive Chef Jeremy Bearman and Culinary Nutritionist Kristy Lambrou discuss how they apply the principles of SPE in a real-life kitchen setting.

Video courtesy of www.genconnect.com
To see more videos on SPE Certified, including video recipes, subscribe to our YouTube channel.
---
April 20, 2018 by Allison Aaron, Sr. Culinary Nutritionist
Do you really know what's in your protein powder? Allison discusses a recent report that examined contamination in this dietary supplement and discusses whether protein powders are a necessary addition to our diets.
---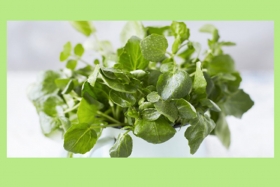 March 19, 2018 by Kat Villarino, Dietetic Intern
Dietetic Intern Kat Villarino covers why watercress is such a nutrient powerhouse and shares how you can incorporate more of it into your diet. Check out her infographic!
---