Recipes
Tzimmes Recipe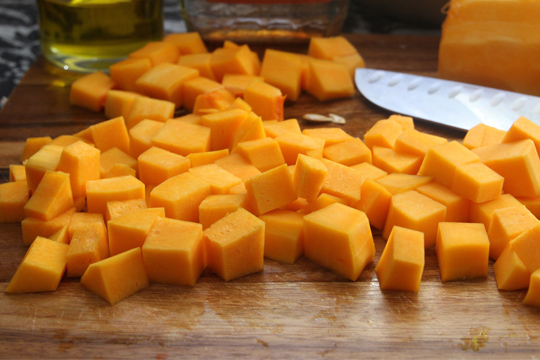 Photo: Tracy Benjamin
Culinary Nutritionist Abbie Gellman presents a healthy "Thanksgivukkah" entrée: Butternut Squash and Chicken Thigh Tzimmes.
Part two of our "Thanksgivukkah" series is the main course, Tzimmes, a traditional braised meat dish made with root vegetables and dried fruit. This dish is often served at Rosh Hashanah, the Jewish New Year, but is a flavorful, healthy addition to any holiday meal. We've made ours with butternut squash and chicken thighs -- the cinnamon, oregano and thyme give the dish more dimension while the orange zest and juice brightens everything up.

Healthy Butternut Squash and Chicken Thigh Tzimmes
Makes 8 servings

9 cups butternut squash, peeled and cut into 1-inch cubes
1 cup dates, pitted
3 cloves garlic, minced
2 shallots (approximately ¼ cup), cut into thinly-sliced rings
1 tsp ground cinnamon
1 tsp dried oregano
1 tsp dried thyme
1 tsp salt
½ tsp black pepper
8 skinless, bone-in chicken thighs, trimmed of fat
1 cup low sodium chicken stock
1 tsp orange zest
¼ cup orange juice
Directions

Preheat oven to 350 °F. Place squash, dates, garlic, shallots, cinnamon, oregano, thyme, ½ tsp salt, and pepper in a bowl and mix. Transfer to a baking dish.
Season chicken with ½ tsp salt and place on top of squash mixture in baking dish.
Mix stock, orange zest, and orange juice in bowl and pour over chicken. Cover baking dish with foil.
Bake for 40-45 minutes. Uncover and continue baking until vegetables are tender and chicken is cooked through, basting often, for approximately 1 hour.
Nutritional information per serving:

Calories: 320
Carbohydrates: 36g
Fiber: 6g
Fat: 6g
Saturated Fat: 1.5g
Sodium: 450mg
Protein: 31g
---
April 20, 2018 by Allison Aaron, Sr. Culinary Nutritionist
Do you really know what's in your protein powder? Allison discusses a recent report that examined contamination in this dietary supplement and discusses whether protein powders are a necessary addition to our diets.
---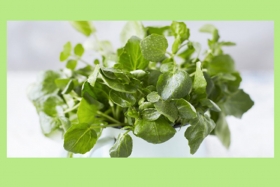 March 19, 2018 by Kat Villarino, Dietetic Intern
Dietetic Intern Kat Villarino covers why watercress is such a nutrient powerhouse and shares how you can incorporate more of it into your diet. Check out her infographic!
---