Recipes
VIDEO: Turkey Chili Recipe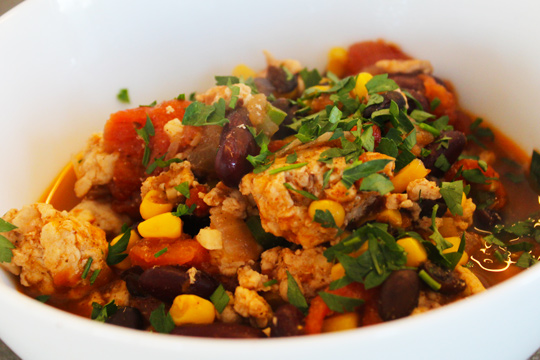 At just 273 calories per serving, this turkey chili makes for a delicious party dish or dinner entrée.
Makes 8 11 oz servings

2 tsp olive oil
4 cloves garlic, minced
1 medium onion, chopped
1 lb ground turkey*
2 tsp ground cumin
2 tsp ground cinnamon
¼-1 tsp ground red pepper**
¼-1 tsp chili powder**
1 large can (28 oz) crushed tomatoes
2 tbsp tomato paste
1½ cups fresh corn or 1 can (12 oz) corn
1½ cups black beans or 1 can (12 oz) black beans, rinsed and drained
1½ cups red kidney beans or 1 can (12 oz) red kidney beans, rinsed and drained
1 medium red bell pepper, chopped
1 jalapeño, chopped (optional)
1 tsp salt
½ tsp ground black pepper
¼ cup chopped cilantro
*You can use textured vegetable protein (TVP) in place of turkey to make this a vegetarian chili.
**For those who want a spicier chili, add more red pepper and chili powder a little at a time, tasting to avoid overly spicing the dish.
Directions

Heat the oil in a large pot over a medium-high heat.
Add the garlic and onion. Cook, stirring frequently, for 1 to 2 minutes or until softened.
Add the ground turkey. Brown the turkey in the pot, being careful not to separate the turkey into small bits.
Add the cumin, cinnamon, red pepper and chili powder.
Add the tomatoes and bring the chili to a simmer, then add the tomato paste and stir to incorporate.
Add the corn, beans, bell pepper and jalapeño, if desired.
Return the chili to a simmer, then remove from the heat.
Garnish with cilantro.
Nutritional information per 11 oz serving:

Calories: 273
Protein: 20.4g
Carbohydrates: 33g
Fat: 6.6g
Saturated Fat: 1.4g
Fiber: 9.4g
Sodium: 363mg
Potassium: 783mg
---
April 20, 2018 by Allison Aaron, Sr. Culinary Nutritionist
Do you really know what's in your protein powder? Allison discusses a recent report that examined contamination in this dietary supplement and discusses whether protein powders are a necessary addition to our diets.
---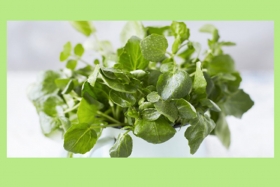 March 19, 2018 by Kat Villarino, Dietetic Intern
Dietetic Intern Kat Villarino covers why watercress is such a nutrient powerhouse and shares how you can incorporate more of it into your diet. Check out her infographic!
---