Recipes
Spiced Fruit Cake Recipe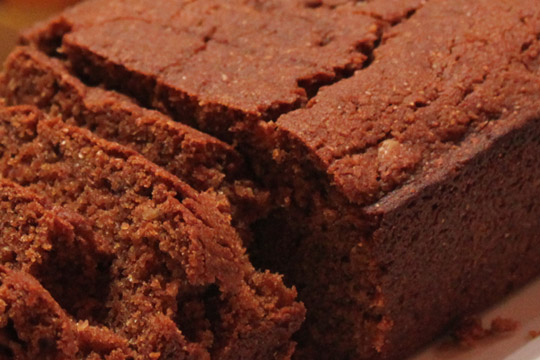 Fruit cake is often a polarizing dish, but we guarantee this one is both nutritious and delicious! A serving of our Spiced Fruit Cake recipe contains just 0.8g of saturated fat and fewer than 200 calories.
Serves 15
1 cup all-purpose flour
½ cup whole wheat flour
1 tsp baking soda
½ tsp ground cardamom
½ tsp Saigon cinnamon
1½ tsp cinnamon
½ cup coconut oil
½ cup coconut palm sugar
1 egg
1 tbsp lemon juice
1 tbsp lemon zest
1 cup carrot juice
½ cup grated carrot
½ cup crushed pineapple
⅛ crystallized ginger
½ cup raisins
½ cup chopped almonds
Garnish with coconut shavings (optional)
Directions

Preheat the oven to 325 degrees.
Mix the flour, baking soda, cardomom and cinnamon together and set aside.
Cream the coconut oil (keep it warm so it doesn't solidify) and coconut palm sugar, then add the egg, lemon juice, lemon zest, carrot juice, grated carrot and crushed pineapple. Mix well.
Add the dry ingredients into the wet ingredients until they are just mixed, then fold in the crystallized ginger, raisins and almonds.
Bake in small, decorative molds, loaf pans or muffin tins (use pan-release cooking spray) for about 20 mins or until toothpick is inserted and removed clean.
Nutritional information per 2.5oz serving:

Calories: 196
Fat: 9g
Saturated Fat: 0.8g
Carbs: 26g
Sodium: 181mg
Fiber: 2.1g
Protein 4g
---
April 20, 2018 by Allison Aaron, Sr. Culinary Nutritionist
Do you really know what's in your protein powder? Allison discusses a recent report that examined contamination in this dietary supplement and discusses whether protein powders are a necessary addition to our diets.
---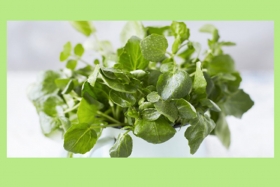 March 19, 2018 by Kat Villarino, Dietetic Intern
Dietetic Intern Kat Villarino covers why watercress is such a nutrient powerhouse and shares how you can incorporate more of it into your diet. Check out her infographic!
---