Recipes
Roasted Sweet Potato Recipe
Photo: Avital Pinnick
Serves 8
4 large sweet potatoes (2lbs), peeled and chopped
2 tbsp olive oil
1 tsp cinnamon
¼ tsp ground nutmeg
½ tsp salt
½ tsp black pepper
2 tsp brown sugar
Directions

Preheat oven to 375 degrees and place large baking sheet inside.
Steam sweet potatoes in large pot filled with 1 inch of water and a steam basket (or other preferred steaming method) for 5 minutes to start cooking process and remove from heat.
In a bowl, toss with olive oil, cinnamon, nutmeg, salt and pepper and spread sweet potatoes on the hot baking sheet and place back in the oven.
Roast for 20-25 minutes or until tender. Toss with brown sugar and serve.
Nutritional information per ¾ cup serving:

Calories: 131
Fat: 3g
Saturated Fat: 0g
Carbs: 24g
Fiber: 4g
Protein: 2g
Sodium: 210g
Vitamin A 321%
Compared to Traditional Sweet Potato Casserole with Marshmallows (¾ cup):
Calories: 421
Fat: 18g
Saturated Fat: 7g
Carbs: 61g
Fiber: 4g
Protein: 6g
Sodium: 360 mg
Vitamin A 278%
---
April 20, 2018 by Allison Aaron, Sr. Culinary Nutritionist
Do you really know what's in your protein powder? Allison discusses a recent report that examined contamination in this dietary supplement and discusses whether protein powders are a necessary addition to our diets.
---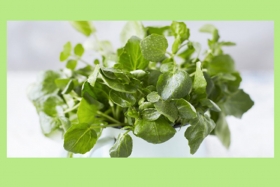 March 19, 2018 by Kat Villarino, Dietetic Intern
Dietetic Intern Kat Villarino covers why watercress is such a nutrient powerhouse and shares how you can incorporate more of it into your diet. Check out her infographic!
---