Recipes
Roasted Chicken with Truffled Root Vegetables & Celeriac Purée Recipe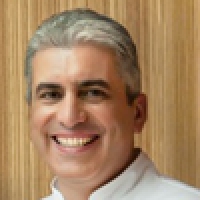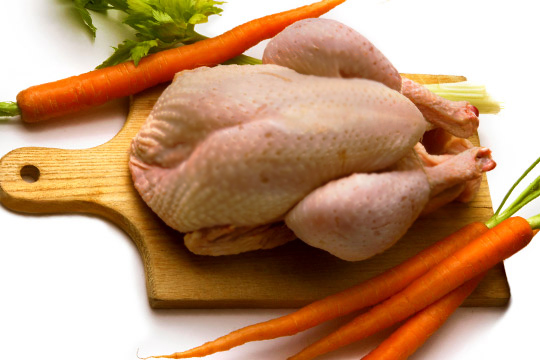 Try this delicious roasted chicken recipe, of which one serving will provide 62g of protein.
Serves 4

Chicken:
2 organic chicken breasts, split, skin on
4 organic chicken thighs, boneless, skin on
2 leeks, split, washed and cut into 3" segments
½ cup chicken stock
1 tsp extra virgin olive oil
Sea salt and black pepper
Celeriac Purée:
1 cup celery root, medium dice
1 cup salted water
1 tsp black truffle oil
Root Vegetables:
½ cup turnips, medium dice
½ cup carrots, medium dice
¼ cup wax beans, blanched and shocked
1 tsp ground cinnamon
1 large egg
1 cup fat free milk
2 apples, cored, peeled and grated (about 1¼ cups)
1 pinch of salt
Truffle Vinaigrette:
3 tbsp shallots, minced
1 tsp black truffle, minced
1 tsp black truffle oil
1 tbsp sherry vinegar
Directions

Preheat the oven to 375 degrees.
Brown the seasoned chicken pieces in a skillet with the oil. Once the skin is brown, remove the chicken and add the leeks.
Add chicken stock and return chicken pieces to the pan on top of the leeks, skin side up and set in the oven for 18-20 minutes.
Bring celery root to a boil and lower to a simmer to cook until tender.
Purée celery root with half of the cooking water while slowly drizzling in the truffle oil. Add cooking water if the purée is too thick.
Season.
In a separate pot, heat 1 tsp of olive oil over medium heat and cook the turnips and carrots for about 1 minute. Add the mushrooms and cook another minute.
Add the chicken stock and cover. Cook for another 2 minutes.
Turn off the heat and add the cut wax beans. Whisk all of the ingredients for the truffle vinaigrette and toss into vegetables.
To serve, divide the leeks in the center of the 4 plates. Place the chicken thighs on the leeks followed by one half breast per plate.
Circle the chicken and leeks with the truffled vegetables, then spoon the celery root purée around the vegetables.
Nutritional information per serving:

Calories: 540
Fat: 21g
Saturated Fat: 5g
Carbs: 22g
Sodium: 680mg
Fiber: 3g
Protein 62g
Potassium: 960mg
Vitamin A: 90%DV
Vitamin C: 35%DV
---
April 20, 2018 by Allison Aaron, Sr. Culinary Nutritionist
Do you really know what's in your protein powder? Allison discusses a recent report that examined contamination in this dietary supplement and discusses whether protein powders are a necessary addition to our diets.
---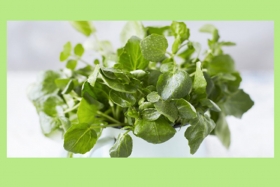 March 19, 2018 by Kat Villarino, Dietetic Intern
Dietetic Intern Kat Villarino covers why watercress is such a nutrient powerhouse and shares how you can incorporate more of it into your diet. Check out her infographic!
---