Recipes
Rhubarb Custard Recipe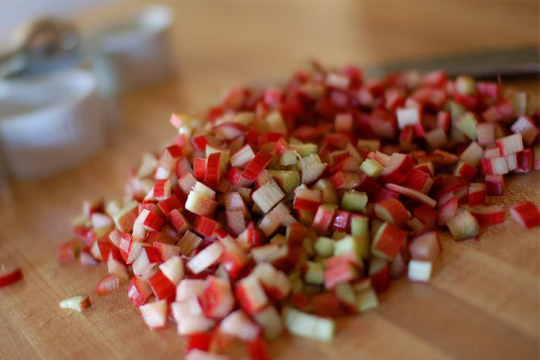 Photo: ulterior epicure
This healthy and delicious rhubarb custard dessert contains just 200 calories per serving.
Now that rhubarb is coming in to season, it's time to start reaping the health benefits of this delicious fruit. Read our post on 5 reasons to eat rhubarb this spring and try this tasty recipe!
Makes 15 servings

Crust
2 tbsp chia seed
¼ cup coconut flour
¾ cup whole wheat flour
3 tbsp butter
Custard:
1 cup granulated sugar
1 cup half and half
¼ cup white whole wheat flour
6 large egg yolks
¼ tsp salt
6 cups rhubarb, chopped
Meringue:
6 large egg whites
¼ tsp salt
1 tsp vanilla
1/3 cup granulated sugar
1 tbsp shredded coconut
Directions

To prepare the crust:
Combine the flours, butter and chia seeds together in all a small bowl and mix together with clean hands until mixture resembles coarse crumbs.
Press into bottom of ungreased ramekins and bake 10-12 minutes.
To prepare the custard:
Combine all ingredients except rhubarb in large bowl. Beat at a medium speed until smooth, then fold in chopped rhubarb.
Pour rhubarb mixture over the baked crust. Continue baking 25-35 minutes or until filling is firm to the touch. Increase oven temperature to 400°F.

To prepare the meringue:
Beat egg whites in large bowl at low speed until foamy. Add the salt and vanilla. Increase speed to high and beat, gradually adding sugar, until glossy and stiff peaks form.

Spread meringue over hot filling, sealing to edge. Then sprinkle with shredded coconut. Continue baking 7-10 minutes or until meringue is lightly browned.
*note- bake ramekins on a sheet tray
Nutritional information per serving:

Calories: 200
Protein: 5g
Carbohydrates: 29g
Fat: 7g
Saturated Fat: 3.5g
Sodium: 115mg
---
April 20, 2018 by Allison Aaron, Sr. Culinary Nutritionist
Do you really know what's in your protein powder? Allison discusses a recent report that examined contamination in this dietary supplement and discusses whether protein powders are a necessary addition to our diets.
---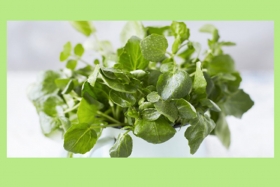 March 19, 2018 by Kat Villarino, Dietetic Intern
Dietetic Intern Kat Villarino covers why watercress is such a nutrient powerhouse and shares how you can incorporate more of it into your diet. Check out her infographic!
---