Recipes
Recipe: Grilled Peaches With Vanilla Yogurt and Candied Almonds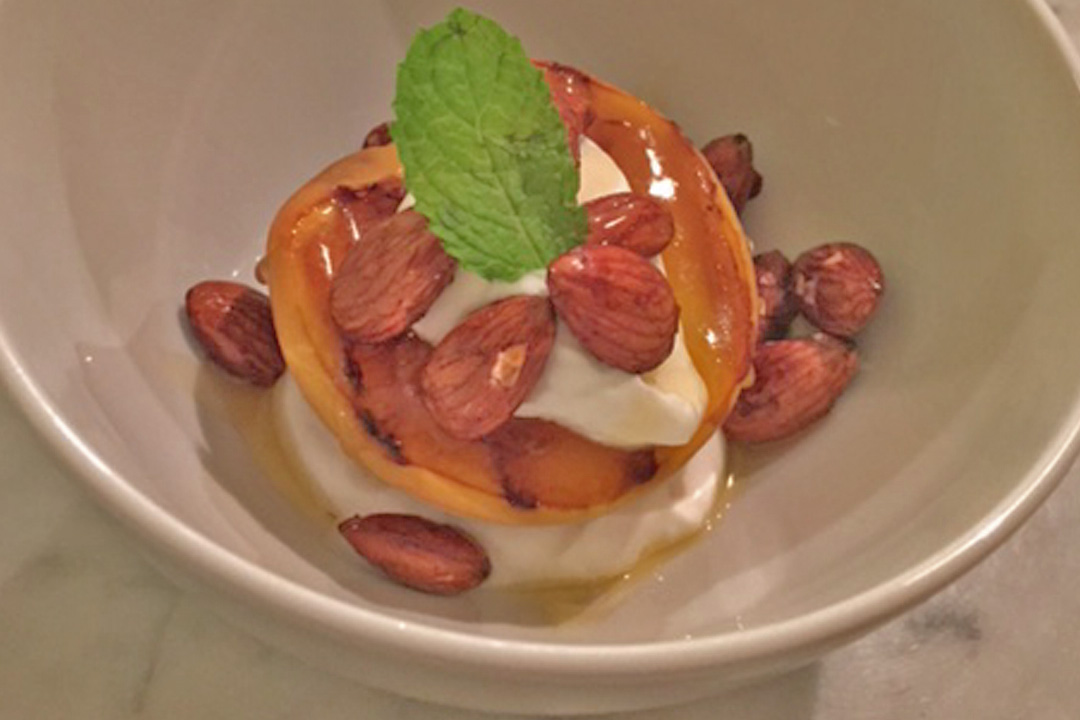 As summer comes to an end peaches are still at their peak. Kristy shares a light, refreshing end-of-summer dessert that can be whipped up in no time whether making dessert for two or hosting that last BBQ bash.
Grilled Peaches With Vanilla Yogurt and Candied Almonds
Makes 4 servings
Ingredients (see sub-recipes below)
4 Grilled Peach halves
⅓ cup Candied Almonds
½ cup Vanilla Yogurt
2 tsp honey
4 picked mint leaves
Instructions:
1. Spoon a small amount of yogurt into each bowl and top with a peach half, flesh-side up. Spoon remaining yogurt over top of peach and add candied almonds. Add a ½ tsp drizzle of honey to each and and garnish with a mint leaf.
Grilled Peaches
2 peaches, unpeeled, halved, pit removed
1 tsp canola or grapeseed oil
Pinch of salt
Instructions:
1. Heat grill pan to medium-low. Brush with oil.
2. Place peaches on pre-heated grill, flesh side down. Grill on each flesh-side for 2-3 minutes or until grill marks are created. Cover or move to indirect heat and cook for another 5-10 minutes until peaches are warmed through.
3. When peach is grilled, transfer to plate and sprinkle flesh side with pinch of salt.

Vanilla Yogurt
½ cup plain 0% Greek yogurt
¼ tsp vanilla extract (or 1-inch piece scraped vanilla bean)
¼ tsp honey
Instructions:
1. In small bowl, combine vanilla, honey and yogurt and whisk until well combined and vanilla is evenly dispersed.
Candied Almonds
⅓ cup raw almonds
1½ tbsp honey
1½ tsp warm water
Pinch of salt
Instructions:
1. Preheat oven to 350F.
2. In small bowl, combine honey with warm water to create honey syrup.
3. Add almonds to bowl and let sit for at least 15 minutes.
4. Drain any excess syrup and toss with pinch of salt.
5. Transfer to oven-safe pan and bake for approximately 15-20 minutes until almonds are toasted and begin to give off a nutty aroma.
6. Immediately transfer to separate pan or surface to cool.
Note: Nuts can be made in advance and stored in a tightly sealed container.
Nutrition Info per serving:
Calories: 140kcal
Fat: 7g
Saturated Fat: 0.5g
Carbohydrates: 16g
Fiber: 3g
Sugar: 13g
Protein: 6g
Sodium: 80mg
Potassium: 230mg
---
April 20, 2018 by Allison Aaron, Sr. Culinary Nutritionist
Do you really know what's in your protein powder? Allison discusses a recent report that examined contamination in this dietary supplement and discusses whether protein powders are a necessary addition to our diets.
---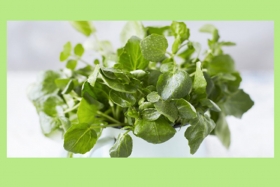 March 19, 2018 by Kat Villarino, Dietetic Intern
Dietetic Intern Kat Villarino covers why watercress is such a nutrient powerhouse and shares how you can incorporate more of it into your diet. Check out her infographic!
---