Recipes
Recipe: Chilled Potato Leek Soup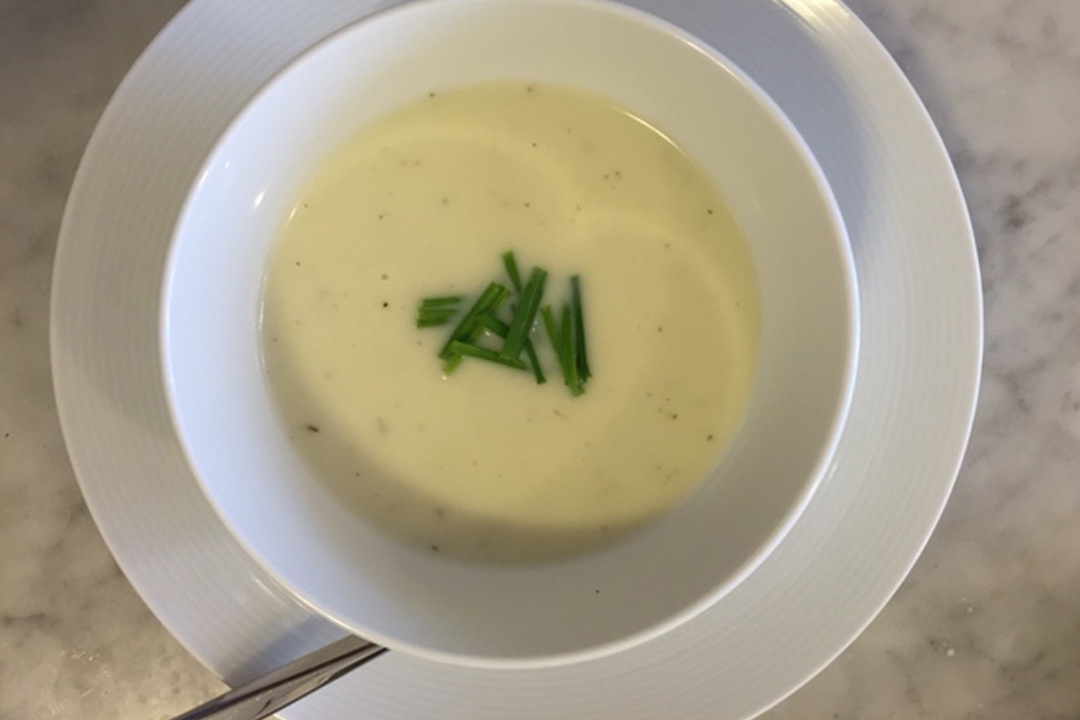 I recently returned from a visit to my in-laws' farm in Maine and was sent home with a bounty of vegetables including a plethora of beautiful leeks. In homage of a timeless dish, here is my take on Vichyssoise, using Greek yogurt and whole milk to add richness in place of butter and heavy cream.

Chilled Potato Leek Soup (Vichyssoise)
Makes approximately 6 servings
¼ cups olive oil
3 cups sliced leeks, white parts only (about 3-4 large leeks)
½ lb Yukon gold or Russet potatoes, peeled & quartered (approximately 2 cups quartered)
4 cups Leek Stock (see below) OR water
1 tsp fine sea salt
1 bay leaf
¼ tsp dried thyme leaves or 1 sprig of thyme
½ cup whole milk
½ cup 2% plain Greek-style yogurt
¼ tsp Ground black pepper
1 ½ Tbsp lemon juice
Garnish: chives
Instructions:
Add oil to stockpot along with leeks and salt. Heat over low to medium heat, covered, until leeks soften but do not brown (about 10 minutes). When leeks are soft, add potatoes, stock, thyme, and bay leaf. Bring to a simmer and cook for 30-40 minutes or until potatoes are completely soft. Remove from heat and remove bay leaves and thyme sprig if using. Stir in milk and yogurt and transfer to blender or food processor and blend until smooth. Cool immediately. Once chilled, whisk in lemon juice and black pepper to taste. Check seasoning and adjust if necessary.
Divide into 6 bowls and garnish with chives.
Note: Soup will seem too thin when it is warm but it will thicken as it cools.
Leek Stock
Leek tops, leftover from trimming leeks for the soup, well washed
Water
Instructions:
Add leek tops to a stock pot and cover with water. Simmer for about 30 minutes and strain. Set aside 1 quart of stock for soup.
Nutrition Info per serving:
Calories: 110kcal
Fat: 5g
Saturated Fat: 1g
Carbohydrates: 13g
Fiber: 1g
Sugar: 3g
Protein: 3g
Sodium: 330mg
Potassium: 240mg
---
April 20, 2018 by Allison Aaron, Sr. Culinary Nutritionist
Do you really know what's in your protein powder? Allison discusses a recent report that examined contamination in this dietary supplement and discusses whether protein powders are a necessary addition to our diets.
---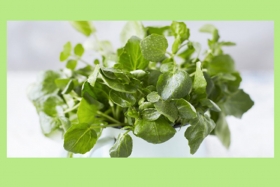 March 19, 2018 by Kat Villarino, Dietetic Intern
Dietetic Intern Kat Villarino covers why watercress is such a nutrient powerhouse and shares how you can incorporate more of it into your diet. Check out her infographic!
---