Recipes
Recipe: Cauliflower Tabouleh
As the popularity of cauliflower rice and cauliflower pizza grow with the popularity of low-carb or gluten-free diets, cauliflower is appearing in more and more recipes, replacing grains and starches. While whole grains can certainly be part of a healthy balanced diet for most people, an upside of this particular trend is that it may be encouraging people to add more vegetables to their meals.
This month, Kristy shares her take on Cauliflower Tabouleh, which features the flavors of a traditional tabouleh, with cauliflower in place of bulgur and dried apricots and raisins for an added surprise.
Cauliflower Tabouleh
Makes 4 servings (about 1 cup loosely packed per serving)
2 cups shaved raw cauliflower (AKA cauliflower "rice")
¼ cup chopped dried apricots
¼ cup strained tea-soaked golden raisins (see recipe below)
¼ cup small diced red bell pepper
¼ cup minced red onion
¼ cup chopped mint
¼ cup chopped parsley
2 tbsp sliced kalamata olives
¼ cup toasted almonds
2 tbsp lemon juice
2 tbsp olive oil
¼ tsp salt
1 tbsp lemon zest
Ground black pepper
Tea-Soaked Golden Raisins
½ cup brewed mint tea
¼ cup golden raisins
Brew tea and pour over raisins while hot. Let steep until raisins are plump and rehydrated (about 15 minutes).
For Tabouleh: Combine all ingredients above in large bowl.
Nutritional Information per serving:
Calories: 190kcal
Fat: 12g
Saturated fat: 1.5g
Sodium: 220mg
Potassium: 410mg
Carbs: 20g
Fiber: 4g
Protein: 4g
---
April 20, 2018 by Allison Aaron, Sr. Culinary Nutritionist
Do you really know what's in your protein powder? Allison discusses a recent report that examined contamination in this dietary supplement and discusses whether protein powders are a necessary addition to our diets.
---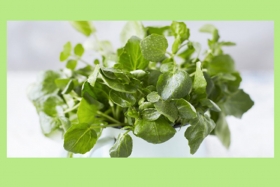 March 19, 2018 by Kat Villarino, Dietetic Intern
Dietetic Intern Kat Villarino covers why watercress is such a nutrient powerhouse and shares how you can incorporate more of it into your diet. Check out her infographic!
---