Recipes
Recipe: Ancient Grain and Chickpea Salad with Asparagus and Pickled Strawberries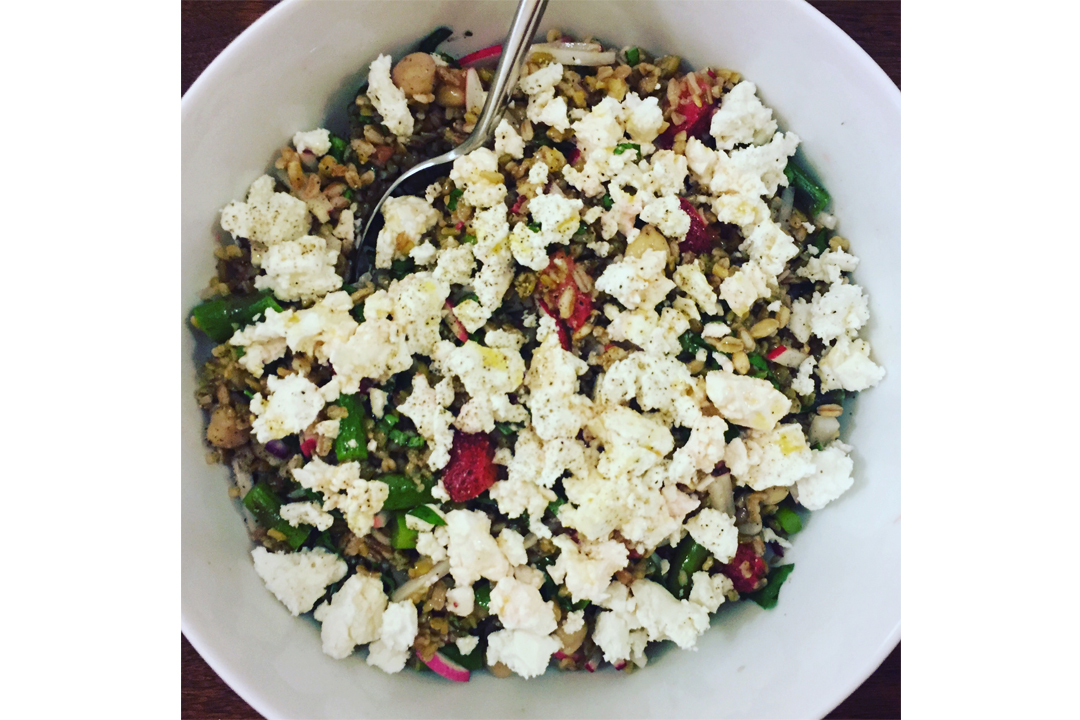 Inspired by the spring ingredients, Kristy Del Coro created this delicious grain salad, featuring farro, freekeh, chickpeas, strawberries and asparagus. If you haven't cooked with it before, freekeh is a grain made from dried green wheat. Both farro and freekeh add fiber, minerals and protein to this dish while the strawberries and asparagus make this grain salad taste like spring.
Farro Freekeh Chickpea Salad with Asparagus and Pickled Strawberries
Makes about 8 1-cup servings
Pickled strawberries
1 cup halved strawberries (150g)
½ cup white balsamic or champagne vinegar
¼ cup water
1 Tbsp sugar
2 tsp kosher salt
Combine vinegar, water, sugar and salt in a small pot and bring to a boil over medium heat. Stir to dissolve sugar and salt. When sugar and salt are dissolved, remove from heat and pour over strawberries in heat proof bowl. Refrigerate uncovered until cool and then cover once cool.
Strawberry Vinaigrette
2 Tbsp strawberry pickling liquid
2 Tbsp white balsamic or champagne vinegar
¼ cup extra virgin olive oil
Juice from 1 lemon (2 Tbsp)
Farro Freekeh Grain Salad
2 cups cooked farro
2 cups cooked freekeh
1 cup cooked chickpeas, no salt added
1 ½ cups blanched asparagus, cut into 1" pieces.
1 cup radish, sliced into matchsticks
½ cup basil chiffonade
½ cup diced drained pickled strawberries (from recipe above)
¾ cup shelled pistachios, unsalted, optional
¼ tsp ground black pepper
½ tsp fine sea salt
Zest from 1 lemon
Vinaigrette (full recipe from above)
¾ cup crumbled feta
Add all ingredients to mixing bowl except for feta cheese and stir to combine. Top with crumbled feta cheese. Serve chilled or at room temperature.
Nutritional Information per cup (with pistachios / without pistachios):
Calories: 260kcal / 330kcal
Fat: 11g / 17g
Saturated fat: 3g / 4g
Sodium: 260mg / 330mg
Potassium: 220mg / 260mg
Carbs: 33g / 36g
Fiber: 7g / 8g
Protein: 8g / 11g
---
April 20, 2018 by Allison Aaron, Sr. Culinary Nutritionist
Do you really know what's in your protein powder? Allison discusses a recent report that examined contamination in this dietary supplement and discusses whether protein powders are a necessary addition to our diets.
---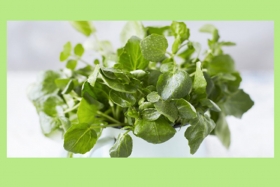 March 19, 2018 by Kat Villarino, Dietetic Intern
Dietetic Intern Kat Villarino covers why watercress is such a nutrient powerhouse and shares how you can incorporate more of it into your diet. Check out her infographic!
---