Recipes
Quick Pickled Knotweed Recipe
Photo credit: Ian Robertson
A quick and healthy recipe for pickled knotweed from Dietetic Intern Tim Chin.
Makes 5 servings.

4-­5 stalks knotweed (~10 inch)
1 teaspoon mustard seeds
1 teaspoon black peppercorns
3 tbsp sugar
1 tbsp salt
¼ cup vinegar
Directions

Using a very sharp knife or mandolin, slice knotweed very thinly on a bias (2 millimeters thick).
In a saucepot, toast mustard seeds and black peppercorns until fragrant. Add vinegar, sugar, and salt and whisk over low heat until dissolved. Let mixture cool, then pour over knotweed and seal in jar or in a container. Pickle for 20-­‐30 minutes before enjoying.
Nutritional information per serving:

Calories: 22
Protein: 0g
Carbohydrates: 8g
Fat: 0g
Saturated Fat: 0g
Sodium: 557mg
---
April 20, 2018 by Allison Aaron, Sr. Culinary Nutritionist
Do you really know what's in your protein powder? Allison discusses a recent report that examined contamination in this dietary supplement and discusses whether protein powders are a necessary addition to our diets.
---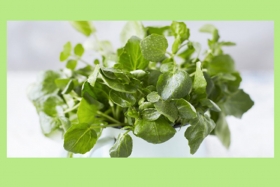 March 19, 2018 by Kat Villarino, Dietetic Intern
Dietetic Intern Kat Villarino covers why watercress is such a nutrient powerhouse and shares how you can incorporate more of it into your diet. Check out her infographic!
---