Interviews
Q&A with Emmanuel Verstraeten, Founder and CEO of SPE Certified
As Founder & CEO of SPE Certified, Emmanuel Verstraeten is the driving force behind SPE Certified's vision to become the leading authority on exceptional taste, health and sustainability when eating outside of the home. I had the pleasure of sitting down with Emmanuel and gaining his perspective on how and why the world needs SPE Certified's services:
Q: For those who are unaware of SPE, what are its origins and objectives?
A: I created SPE to build a bridge between science and the culinary world, with the idea that healthy food could actually be delicious. So in 2001, I brought together a chef and a dietitian (truly an odd couple!) and opened the first SPE restaurant in Brussels named Rouge Tomate.
From the beginning, though, the goal was to expand beyond Rouge Tomate. The restaurant was only its "incubator", its real-life laboratory. When I decided to open a Rouge Tomate in New York, the idea was to showcase SPE and prove that it could work at the very highest level. It has taken a few years to adapt SPE to reflect America's nutritional priorities, but we're now ready to launch SPE across the country.
Q: What does SPE mean?
A: SPE stands for Sanitas Per Escam, literally Health Through Food in Latin. I thought it was an ideal "promise" for a unique third-party certification and consulting program designed to enhance the nutritional quality of meals, without compromising taste."
Q: You mention that SPE has been developed over the last ten years. How were your guidelines shaped during that period?
A: The idea behind SPE came about in 2001. In the Brussels kitchen of Rouge Tomate, our dishes were created by applying the latest in nutrition science to our food and closely following the principles of the Mediterranean food model. Over the subsequent years we tested these guidelines in the kitchen, using our customers as a continuous focus group. The feedback helped Rouge Tomate's chef and dietitian to investigate and find culinary solutions to entice people to actually eat what was put together on the plate, based on these scientific principles.
To make sure that we were using the latest and most relevant science possible, we also formed a scientific committee of nutrition experts from leading universities in Belgium."
Q: The philosophy of SPE has been a big success at Rouge Tomate Brussels. Why did you decide to bring the idea to New York in particular?
A: New York is known around the world as an iconic city and is equally as iconic when it comes to food. With so many great restaurants and such a richly diverse variety of cuisine, it has also become known as a city that has positioned itself at the center of culinary innovation.
I feel that historically New York is often at the forefront of avant-garde movements – art, architecture, music, theater, and of course, food! It therefore seemed fitting that we launch SPE Certified, an avant-garde movement in itself, here in New York City.
Q: To some people, the sound of healthy food that also tastes great is too good to be true. How are you aiming to change people's attitudes towards healthy food?
A: The just-released Food Information Council Foundation's 2012 Food & Health Survey finds that taste remains the number one influence on food choices, which has been from the beginning a priority for us. Our Executive Chef and culinary nutritionists work with our partner restaurants to ensure that SPE-certified dishes are nutritious and healthy, without compromising on taste.
I believe we can change people's attitudes by simply proving that healthy food can taste amazing -- one dish at a time. There's a misconception that healthy food has to be bland and flavorless, but I'm hoping to disprove this on a larger scale with the help of the chefs and restaurants nationwide that are currently joining our movement.
Q: How do you validate SPE's guidelines? How are those guidelines drafted?
A: In 2008 , along with the launch of SPE and Rouge Tomate New York, I formed a US Scientific Committee comprised of top health and nutrition experts -- Eric Rimm from Harvard, Jeffrey Blumberg from Tufts and John Foreyt from Baylor -- who make sure that the SPE charter is consistent with US nutrition science, and is constantly updated to reflect the latest research. The SPE Scientific Committee also answers any questions the SPE team may have when working with clients.
Q: Do you have plans to take SPE further afield than NYC?
A: The latest projections regarding obesity rates are shocking. It's estimated that by 2030, 42% of the population will be obese. Obesity rates increase year-on-year and an ever-increasing number of Americans are being diagnosed with diseases such as diabetes, heart disease and cancer. There's not only the issue of public health, but also the issue of inflating healthcare costs.
I created SPE with a real desire to affect positive change and to help change people's attitudes towards food. The end goal is to reach as many men, women and children as possible with SPE. I want SPE to expand beyond the NYC restaurant scene and to become known on a national level, because I think it's important for SPE to have a real impact on attitudes and health across the country.
---
April 20, 2018 by Allison Aaron, Sr. Culinary Nutritionist
Do you really know what's in your protein powder? Allison discusses a recent report that examined contamination in this dietary supplement and discusses whether protein powders are a necessary addition to our diets.
---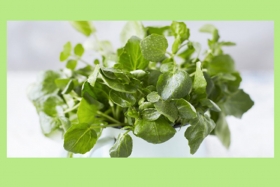 March 19, 2018 by Kat Villarino, Dietetic Intern
Dietetic Intern Kat Villarino covers why watercress is such a nutrient powerhouse and shares how you can incorporate more of it into your diet. Check out her infographic!
---